About Healthcare Career College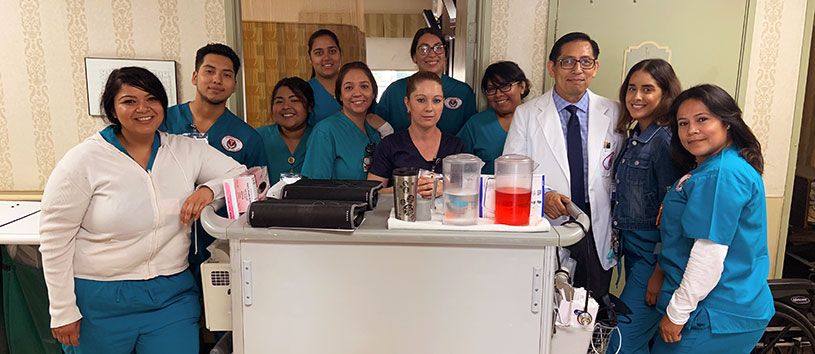 Providing Quality Healthcare Training Since 1990
Founded in Paramount, CA in 1990, Healthcare Career College was originally named Infotech Career College. We provide a fast career pathway to employment by providing a variety of healthcare programs catered to meet your needs. Continue reading to learn more about us.
Our Mission
At Healthcare Career College, our mission is to transform our students into successful, hardworking individuals with a passion for healthcare and helping others. We want to provide each of our students with a successful training experience that prepares them for a rewarding career in the healthcare industry.
Our supportive instructors and faculty are committed to helping you reach your educational and career goals. Our team has your back and will guide you through every step of your journey to become a healthcare professional. We will even be here to help you with job placement assistance upon graduation.
We have strong ties with the local community, meaning that employers recognize and support Healthcare Career College graduates. By matching you with compatible employers within the community, you will be able to flourish and put your newly acquired skills to work.
Our Community Involvement
We are continuously finding new ways to stay active in our community. We participate in and offer services to the community as a way for our students to gain hands-on experience in the healthcare field. This includes participating in health fairs, hosting educational movie days, offering STI seminars and hosting HIV testing events, participating in Care Harbour, and much more.
The Healthcare Career College Difference
We understand the importance and dire need of healthcare workers. That's why our programs provide you with the relevant, up-to-date skills employers are looking for in viable career fields. Training will go by fast! Once you've completed your training, you'll be ready to jump into an in-demand career and put your new skills to the test.
We have upgraded our hands-on labs to include the latest simulation equipment so you can get familiar with the technology that you'll use in your healthcare career. Our new ScanTrainer ultrasound equipment offers real-time scanning of over 3,000 case studies using real patient scans. This equipment will be accessible to all students, ensuring that everyone can practice their skills before entering the workforce.
Is a Rewarding Career in Healthcare Right for You? Get More Info…
If you're interested in learning more about us, your financial aid options and exploring whether Healthcare Career College is right for you, fill out the form on this page to receive more information.
For immediate questions, call (562) 804-1239