Testimonials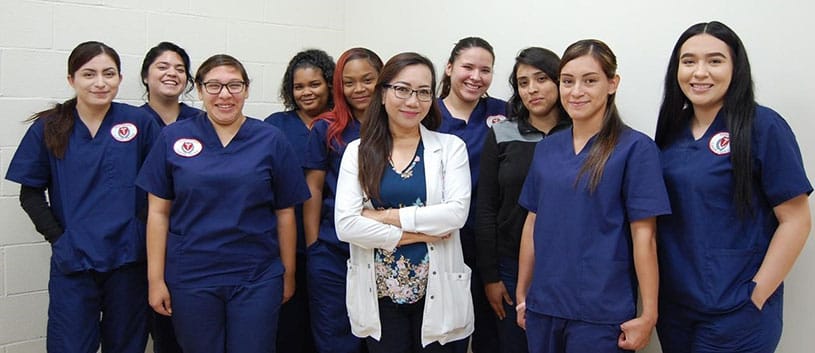 Here's What Our Graduates and Students Have to Say
★ ★ ★ ★ ★
I got hired at Diagnostic Laboratory Science as a medical biller and I really enjoy my job, love my co-workers, and I feel at home. Thank you Healthcare Career College for an amazing opportunity. You changed my life for the better and I'm truly grateful you opened the door for me and showed me that anything is possible.
★ ★ ★ ★ ★
My name is Maria and I'm an employed graduate from Healthcare Career College. I was doing externship at Alameda Industrial Medical Group Center for a few months and got hired as a Physical Therapy Aide. I really love my job. My responsibilities are helping patients with doing exercises, putting modalities on them, and explaining and showing to them everything that we're going to do. My future goals are to become a physical therapist.
★ ★ ★ ★ ★
I currently work at A&C Urgent Care and I love helping people. I work in the front and back office completing many  different tasks. My favorite part about my new career as a Phlebotomy Technician is being able to help people throughout the day. This makes me so happy. If you want to accomplish your goals and become a Medical Assistant or Phlebotomy Technician, Healthcare Career College will be there to help you.
★ ★ ★ ★ ★
I'm Iliana and I'm an employed graduate from Healthcare Career College. I got hired as a medical assistant at Cedars-Sinai where I was doing my extern. I enjoy and love what I do. The people around are very helpful. I want to spend more time in the healthcare field and gain more experience on my job and set my goals a little higher.
★ ★ ★ ★ ★
Healthcare Career College helped me get to where I am now, what I'm able to do in this profession, and now I love what I do. I got hired at Kaiser Permanente in South Bay doing administrative specialist work and medical assistant administering vaccines to patients. Overall, I have more confidence and it has helped me be more appreciative working with different types of people.
★ ★ ★ ★ ★
Caring and helping others has always been my motivation, therefore I enrolled to Healthcare Career College. My experience at Healthcare Career College was great! I learned a lot and my teacher was great. My advice for students is to focus and to choose the correct program that's right for your future.
★ ★ ★ ★ ★
I was calling a lot of schools and no one was able to help me. Healthcare Career College helped me a lot which made me very happy. My experience at my extern made me very excited because Dr. Sand is always happy, humble, and she helped me a lot. My advice to students is to enroll as soon as possible because this is a big opportunity.
★ ★ ★ ★ ★
I wanted to learn something new and I chose this program to help myself and my family. I really loved the experience at this college learning different things. Reaching your goals is important. Study hard if you want to accomplish in your life and there's many things to learn.
★ ★ ★ ★ ★
Being enrolled in Healthcare Career College had opened many doors for me. As a student, I was always encouraged by the staff and my instructors every day. I was determined to make everyone proud, and learn as much as I could about ultrasounds. Everything that was available to us was extremely helpful and brought out every students potential.
★ ★ ★ ★ ★
I enrolled into Healthcare Career College because I liked what they told me about the ultrasound program. It sounded very hands on and something I would enjoy. My teachers were such a big help and always pushed me to stay on course. I feel as though I was prepared for my extern. My advice to any students who want to attend Healthcare Career College, is to take it seriously and know that the teachers and staff are really here to help you.