Testimonials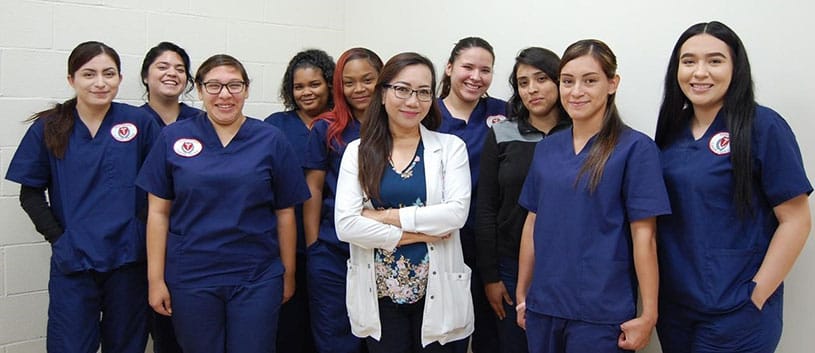 Here's What Our Graduates and Students Have to Say
★ ★ ★ ★ ★
Caring and helping others has always been my motivation, therefore I enrolled to Healthcare Career College. My experience at Healthcare Career College was great! I learned a lot and my teacher was great. My advice for students is to focus and to choose the correct program that's right for your future.
★ ★ ★ ★ ★
I was calling a lot of schools and no one was able to help me. Healthcare Career College helped me a lot which made me very happy. My experience at my extern made me very excited because Dr. Sand is always happy, humble, and she helped me a lot. My advice to students is to enroll as soon as possible because this is a big opportunity.
★ ★ ★ ★ ★
I wanted to learn something new and I chose this program to help myself and my family. I really loved the experience at this college learning different things. Reaching your goals is important. Study hard if you want to accomplish in your life and there's many things to learn.
★ ★ ★ ★ ★
Being enrolled in Healthcare Career College had opened many doors for me. As a student, I was always encouraged by the staff and my instructors every day. I was determined to make everyone proud, and learn as much as I could about ultrasounds. Everything that was available to us was extremely helpful and brought out every students potential.
★ ★ ★ ★ ★
I enrolled into Healthcare Career College because I liked what they told me about the ultrasound program. It sounded very hands on and something I would enjoy. My teachers were such a big help and always pushed me to stay on course. I feel as though I was prepared for my extern. My advice to any students who want to attend Healthcare Career College, is to take it seriously and know that the teachers and staff are really here to help you.
★ ★ ★ ★ ★
What made me enroll to HCC was the thought of being part of the health field. I chose the dental field because the career is more of hands-on work. My experience as a student and extern sites were great. My advice to other students that want to join the Dental field is working in the Dental field offers you multiple positions to work for in the office.
★ ★ ★ ★ ★
Healthcare Career College was close to my house. I wanted to be a nurse and I saw the school offered the Program and had a high passing rate. My experience was the best! Everyone is so friendly and helpful and they'll definitely help you succeed. Just do it!