Testimonials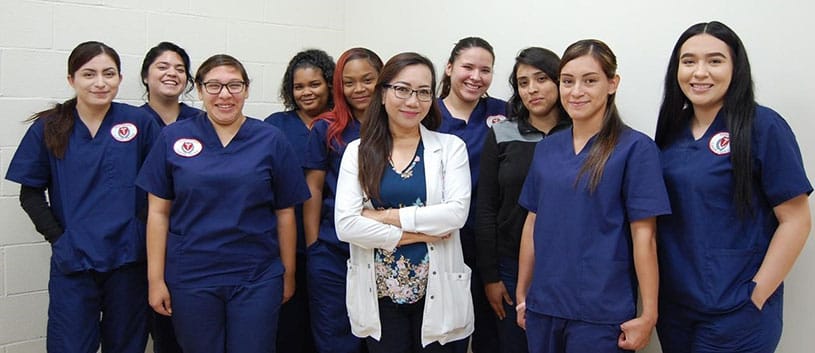 Here's What Our Graduates and Students Have to Say
★ ★ ★ ★ ★
I was a CNA for a long time and concluded that I wanted to do more but still want to be in the healthcare field, so I decided to step it up to the LVN program. Healthcare Career College has helped me in a lot of ways. The teachers never gave up on me and they picked me up all the way. I was hired at Affinity Care Center as a charge nurse. I like my job, it's fast paced, and you must have the heart for it. My suggestion to anyone that's thinking of becoming a nurse is just make sure you're doing it for the right reasons.
★ ★ ★ ★ ★
Healthcare Career College helped me achieve my goal because I never imagined that medical biller would be my career. Now that I have a year of experience, I like it, I see myself improving! I am now an account manager and help other account managers start their own accounts. I'm now currently working at ACEF Enterprises for Medical Billing. What I love about my job is that this isn't a job for me. It's a second home and I feel they are my family. My advice that I would give is do not be afraid to ask questions. The more you ask, the more you will learn.
★ ★ ★ ★ ★
Healthcare Career College has given me the tools that I needed to succeed in my journey in the healthcare field. My goal is to get employed and be in the business side of healthcare. The class Ms. Castro was holding in business management helped prepare me. I'm now working at Homewatch CareGivers. I am the director of client services. My responsibilities are to recruit caregivers to make sure that we have quality caregivers that can give quality care to our clients. I absolutely love it.
★ ★ ★ ★ ★
I was always passionate in wanting to learn more about dentistry. I found Healthcare Career College and I learned so much from Ms. Enriquez. She's very detailed and thorough which made learning quicker and easier. I currently work at Dr. Virginia Castelo, DDS in Los Angeles as a dental assistant. What I love about the job is the people that I work with. Everyone is very patient and I feel that I learned a lot. My plans for the future is hopefully continue working with dentistry and continue my education to become an RDA.
★ ★ ★ ★ ★
I got hired at Diagnostic Laboratory Science as a medical biller and I really enjoy my job, love my co-workers, and I feel at home. Thank you Healthcare Career College for an amazing opportunity. You changed my life for the better and I'm truly grateful you opened the door for me and showed me that anything is possible.
★ ★ ★ ★ ★
My name is Maria and I'm an employed graduate from Healthcare Career College. I was doing externship at Alameda Industrial Medical Group Center for a few months and got hired as a Physical Therapy Aide. I really love my job. My responsibilities are helping patients with doing exercises, putting modalities on them, and explaining and showing to them everything that we're going to do. My future goals are to become a physical therapist.
★ ★ ★ ★ ★
I currently work at A&C Urgent Care and I love helping people. I work in the front and back office completing many  different tasks. My favorite part about my new career as a Phlebotomy Technician is being able to help people throughout the day. This makes me so happy. If you want to accomplish your goals and become a Medical Assistant or Phlebotomy Technician, Healthcare Career College will be there to help you.
★ ★ ★ ★ ★
I'm Iliana and I'm an employed graduate from Healthcare Career College. I got hired as a medical assistant at Cedars-Sinai where I was doing my extern. I enjoy and love what I do. The people around are very helpful. I want to spend more time in the healthcare field and gain more experience on my job and set my goals a little higher.
★ ★ ★ ★ ★
Healthcare Career College helped me get to where I am now, what I'm able to do in this profession, and now I love what I do. I got hired at Kaiser Permanente in South Bay doing administrative specialist work and medical assistant administering vaccines to patients. Overall, I have more confidence and it has helped me be more appreciative working with different types of people.
★ ★ ★ ★ ★
Caring and helping others has always been my motivation, therefore I enrolled to Healthcare Career College. My experience at Healthcare Career College was great! I learned a lot and my teacher was great. My advice for students is to focus and to choose the correct program that's right for your future.