Get Certified with California's Best Nursing Assistant Program
8-Week* Nurse Assistant Certificate Program in South Los Angeles, CA
Be trained to become a Nurse Assistant with the necessary knowledge, clinical skills, and professionalism expected by employers to provide the highest quality of comfort and care to patients by helping them with their daily activities.
For existing C.N.A's, LVN or Patient Care Technician is a good option. Medical Assistant is a great foundation for those applying for the Ultrasound Technician and Nursing programs.
Oct 30th

Nurse Assistant/Home Health Aide

: Nurse Assistant/Home Health Aide

Healthcare Career College - Paramount

8527 Alondra Blvd, Suite #128

Paramount

CA

USA

90723

In as little as 8 weeks*, you will be ready for a rewarding career as a Nursing Assistant. A Nursing Assisting career is extremely fulfilling as you will be providing significant care to patients in the health care industry.

https://healthcarecareercollege.edu/wp-content/uploads/2020/06/nurse-assistant-nurse-opt.jpg

Healthcare Career College
Healthcare Career College, located in Paramount, CA, serves nursing assistant students in Long Beach, Compton, Lakewood, Downey, Bellflower, Norwalk, Cerritos, the greater Los Angeles area and north Orange County.
The best way to see if Healthcare Career College is the right fit for you is to attend an information session. You can book an information session to get a true feel for what it's like to be a part of the Healthcare Career College community. Schedule an information session now or Get more info.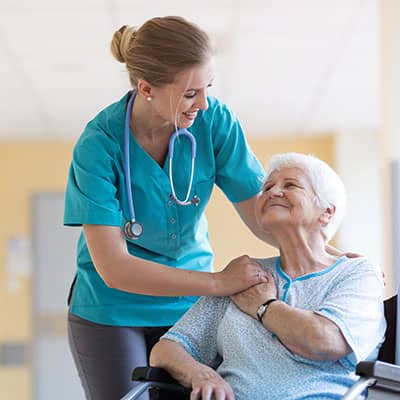 Nurse Assistant/Home Health Aide
8 Week* Certificate | $39,280 median annual salary**
---
14% Job Growth Over Next 10 Years
Graduates hired by nursing homes, hospitals, & home healthcare services
Advance into a Licensed Practical Nurse, Registered Nurse, Geriatric Care Manager and much more!
* Program length when completed in normal time
** https://www.labormarketinfo.edd.ca.gov/OccGuides/detail.aspx?Soccode=311014&Geography=0601000000 visited on August 12, 2021. Salary source for nursing assistants with the lowest 25th percentile earning $32,270 to the highest 75th percentile of workers earning $44,610.
Become a Qualified Nursing Assistant
Nursing assistants offer a vital service in the healthcare field. They provide direct patient care and assist with activities of daily living — a much-needed service in home health care settings.
According to the U.S. Bureau of Labor Statistics, job growth in this field will grow by 8% between 2019 to 2029. If you're looking to apply for our home health aide program in California, you must meet the following requirements:
High School Diploma or GED equivalent
16 years or older
Ability to read, write, and speak English
Possessing a current government-issued ID and valid social security card
Demonstrate your financial capability to meet the program's tuition, book, and testing fees
Medical clearance
Accomplished entrance forms
Those who have passed a CNA course and want to complete the 40-hour HHA training, please submit the following:
Proof of successful passing of the CNA certification exam (including your name and date of certification or confirmation of completion from a home health aide program recognized by California)
Updated CPR card
Once you have successfully met the requirements, you'll gain access to a care-based curriculum where you will learn:
Medical and dental office procedures
Insurance billing and collections
Procedure and Diagnostic Coding
Patient Assessment and Documentation
Basic home health aide care such as vital signs monitoring, home exercises, therapeutic treatments
Infection control procedures for long-term care facilities
How to assist with activities of daily living (ADLs) such as bathing, dressing, and grooming
How to assist with ambulation and transfer techniques
Program Features:
Bilingual student assistance
Above 90% certification exam passing and job placement rate
Hands-on experience with patients at the clinical site
Certification exam preparation and testing on campus
Job Outlook:
Small and large organizations hiring
Employment growth of 14.3% from 2018 to 2028**
Career growth potential
Certification is accepted nationally
Being enrolled in Healthcare Career College had opened many doors for me. As a student, I was always encouraged by the staff and my instructors every day. I was determined to make everyone proud, and learn as much as I could about ultrasounds. Everything that was available to us was extremely helpful and brought out every students potential.
Career Opportunities
Graduates of Nursing Assistant school are hired by Nursing homes, hospitals, rehabilitation facilities and home health agencies because of the higher level of professionalism and quality of care they provide for their patients.
Our Nursing Assistant program graduates have been hired by:
College Hospital
Windsor Palms Care Center
Right at Home
Lakewood Park Health Center
And more!
Median Pay: $11.65/hour**
View Nurse Assistant job postings in Paramount, CA on Indeed.com
View Home Health Aide job postings in Paramount, CA on Indeed.com
How to Become a Nursing Assistant in California
Direct care workers have different certification requirements. To become a certified nursing assistant in California, you must:
1. Complete Training Requirements
Attend a state-approved nursing assistant training program to learn the skills and knowledge you need to pass the certification exam.
2. Complete Clinical Hours
At least 120 hours of home aid training, including 20 hours of supervised clinical practice and 75 hours of classroom lecture. Those who have already undergone nurse assistant certification must take an additional 40-hour training program which includes 20 hours each of classroom and clinical training.
3. Meet Additional Requirements
Employers may require fingerprinting and background checks. California utilizes Live Scan, a biometric identification system, which transmits your data to the Department of Public Health for background checking. You must renew your certification every two years to maintain it.
4. Take the Final Exam
Once you have completed your classroom lectures and practicum, you will qualify for the final assessment.
5. Be Registered
After you pass the final exam, you will be listed on the California Home Health Aide Registry and can begin applying for jobs.
6. Stay Up-to-Date with Continuing Education
To stay competent and knowledgeable, the state of California mandates that home health aides renew their certifications every two years on their HHAs birthday. They'll also need to complete at least 12 in-service training hours annually through approved providers.
Check Out Other Healthcare Career Training Opportunities at Healthcare Career College
Medical Assistant
Medical Billing and Coding
Dental Assistant
Physical Therapy Aide
Massage Therapy
Is a Rewarding Career in Nursing Assisting Right for You? Get More Info…
If you're interested in learning more about careers in Nursing Assisting and exploring whether Healthcare Career College is right for you, fill out the form on this page to receive more information.
For immediate questions, call (562) 804-1239
*Program length when completed in normal time.
**Source: EDD/LMID Occupational Employment Statistics Survey 2021