Build a Promising Career as Dental Assistant in California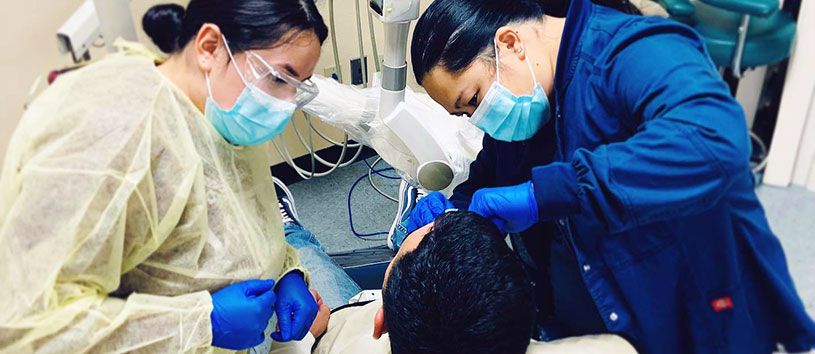 11-Month* Dental Assistant Diploma Program in South Los Angeles, CA
Dental Assistants are the dentist's sales representatives and are trained to provide the utmost customer service and highest quality of dental care for their patients. Dental Assistants are trained in the different dental instruments, equipment, and procedures to assist the dentist and explain the dentist's instructions, helping patients feel at ease.
Next Start Date: Dec 14thDental Assistant Healthcare Career College - Paramount 8527 Alondra Blvd, Suite #128 Paramount CA USA 90723 Dental Assisting is an excellent career choice for those who have great attention to detail skills and enjoy being around other people. Start a rewarding career as a Dental Assistant in as little as 11 months*! https://healthcarecareercollege.edu/wp-content/uploads/2020/06/dental-assistant-hero-opt.jpgHealthcare Career College
Healthcare Career College, located in Paramount, CA, serves dental assistant students in Long Beach, Compton, Lakewood, Downey, Bellflower, Norwalk, Cerritos, the greater Los Angeles area and north Orange County.
The best way to see if Healthcare Career College is the right fit for you is to attend an information session. You can book an information session to get a true feel for what it's like to be a part of the Healthcare Career College community. Schedule an information session now or Get more info.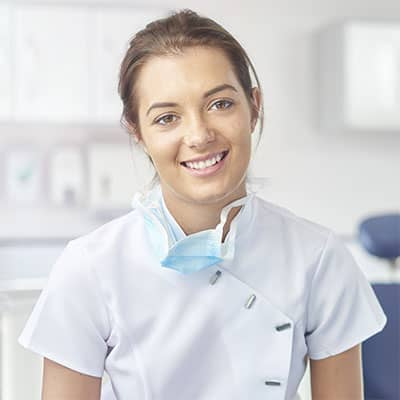 Dental Assistant
11 Month* Diploma | $44,543 median annual salary**
---
15% Job Growth Over Next 10 Years
Graduates hired by dental offices, hospitals, & public health centres
Advance into a Dental Hygienist, Dental Lab Tech, Dentist and much more!
* Program length when completed in normal time
** https://www.labormarketinfo.edd.ca.gov/OccGuides/Detail.aspx?Soccode=319091&Geography=0601000000 visited on August 12, 2021. Salary source for dental assistants with the lowest 25th percentile earning $36,432 to the highest 75th percentile of workers earning $54,374.
Become a Skilled Dental Assistant
During this program, you will learn to:
Sterilize and disinfect dental instruments
Set up instrument trays
Prepare materials
Assist dentists during procedures
Take dental x-rays
Record treatment information in patient records
Take and record medical and dental histories and vital signs of patients
Provide postoperative instructions prescribed by dentists
Assist dentist in management of medical and dental emergencies
Pour, trim and polish study casts
Instruct patients in oral hygiene and plaque control programs
Make preliminary impressions for study casts and occlusal registrations for mounting study casts
Clean and polish removable appliances
Procedure and Diagnostic Coding
Diploma Features:
Free certification Prep and Testing
Electronic Dental Records Training
Microsoft Office Training
Externship included
Job Outlook:
Opportunities in both customer service (front office) and clinical (back office) positions
Small and large organizations hiring
Employment growth of 15.3% from 2018 & 2028 in California**
Career growth potential
Certification is accepted nationally
What made me enroll to HCC was the thought of being part of the health field. I chose the dental field because the career is more of hands-on work. My experience as a student and extern sites were great. My advice to other students that want to join the Dental field is working in the Dental field offers you multiple positions to work for in the office.
Career Opportunities
Dental Assistant
Customer Service (front office)
Clinical Positions (back office)
Possible Job Duties:
Prepare materials for impressions and restorations
Take dental x-rays, and process the film as directed by a dentist
Remove sutures, apply topical anesthetics to gums or cavity-preventive agents to teeth
Remove excess cement used in the filling process
Place rubber dams on the teeth to isolate them for individual treatment
Median Pay: $21.41/hour**
View Dental Assistant job postings in Paramount, CA on Indeed.com
Career Benefits of Becoming a Dental Assistant
Dental assistants are a vital part of the dental team, supporting dentists and hygienists. They help create a pleasant patient experience by performing administrative tasks and providing chairside assistance. You can become a valuable asset to any practice by joining an accredited dental program in California.
The rewards of being a dental assistant extend beyond just gaining experience and making a good salary. Here are a few benefits to look forward to:
Flexible Schedule – Depending on the practice's needs, you can work part-time or full-time, with some offering nights, weekends, and holidays.
Career Advancement – With the proper training, experience, and certifications, you may eventually become a dental hygienist, dental lab technician, or dentist.
Competitive Pay – California's median annual wage for dental assistants was $46,060 as of 2021.
Do You Need to Be Certified to Become a Dental Assistant in California?
Certification is not required to become a dental assistant in California, but it is strongly encouraged. Getting certified is a great way to demonstrate your knowledge and skills, set yourself apart from other applicants, and show that you are serious about your career.
Most employers in California prefer to hire dental assistants with a valid certificate from the Dental Assisting National Board (DANB). This ensures that the dental assistant has met minimum standards in terms of education and experience.
Examination and Licensure Requirements
To become a Registered Dental Assistant (RDA) in California, applicants must fulfill the following requirements:
An accomplished RDA application form with the $120 application fee mailed to the Dental Board of California. As set out in Section 30(c) of the Business and Professions Code, the licensing board will only process an original application for licensure if the applicants submit their federal employer identification number or social security number.
To satisfy the Dental Board of California, please produce written documentation that fulfills one of the following requirements:

An accomplished Certification of Board Approved Registered Dental Assisting Program Certificate (RDA2)
A copy of the official Dental Assisting Diploma/Certificate
A letter signed by the Program Director certifying completion of the RDA program. It must include the actual graduation date, be affixed with the school seal, and be written on stationery.

To secure RDA licensure in California, applicants must submit evidence that they have satisfactorily finished Board-approved radiation safety and coronal polishing classes.
Each applicant for RDA licensure must provide evidence of completing Board-approved courses in the California Dental Practice Act. This includes an 8-hour Infection Control course and basic life support training.
Satisfactory performance on the Registered Dental Assisting Examination.
Fingerprint clearances and background checks conducted by the Department of Justice and FBI.
What Can a Dental Assistant Do in California?
Dental assistants must only perform tasks delegated to them by the dentist. Otherwise, they can face disciplinary action from the Dental Board of California. Typical duties of dental assistants in California include:
Setting up and preparing dental materials and instruments
Sterilizing, storing, and disposing of dental instruments
Assisting the dentist during patient examinations and treatments
Taking x-rays and impressions
Performing basic lab procedures, such as making temporary crowns or taking casts of teeth
Educating patients on oral hygiene
Recording patient medical and dental histories
Scheduling appointments and updating patient records
Check Out Other Healthcare Career Training Opportunities at Healthcare Career College
Medical Assistant
Medical Billing and Coding
Physical Therapy Aide
Massage Therapy
Is a Rewarding Career in Dental Assisting Right for You? Get More Info…
If you're interested in learning more about careers in Dental Assisting and exploring whether Healthcare Career College is right for you, fill out the form on this page to receive more information.
For immediate questions, call (562) 804-1239
*Program length when completed in normal time.
**Source: EDD/LMID Occupational Employment Statistics Survey 2021