Get the Skills to Become a Massage Therapist
11-Month* Massage Therapy Diploma Program in South Los Angeles, CA
Massage Therapy is a rewarding, exciting and rapidly growing profession. Massage therapists can help heal injuries, reduce stress, relieve pain, and promote overall health and wellness for their clients.
With Massage Therapy, individuals can provide relief and improve the overall wellness of their clients through the application of different manual techniques. The application of such techniques include manipulating skin, muscles, and connective tissues through massage.
Next Start Date: Oct 25thMassage Therapy Healthcare Career College - Paramount 8527 Alondra Blvd, Suite #128 Paramount CA USA 90723 If you're looking to start training towards a career in Massage Therapy, look no further. Our 11-month* hands-on program will give you the skills and training you need to start an in-demand in Massage Therapy.https://healthcarecareercollege.edu/wp-content/uploads/2020/06/massage-therapy-hero-opt.jpgHealthcare Career College
Healthcare Career College, located in Paramount, CA, serves massage therapy students in Long Beach, Compton, Lakewood, Downey, Bellflower, Norwalk, Cerritos, the greater Los Angeles area and north Orange County.
The best way to see if Healthcare Career College is the right fit for you is to attend an information session. You can book an information session to get a true feel for what it's like to be a part of the Healthcare Career College community. Schedule an information session now or Get more info.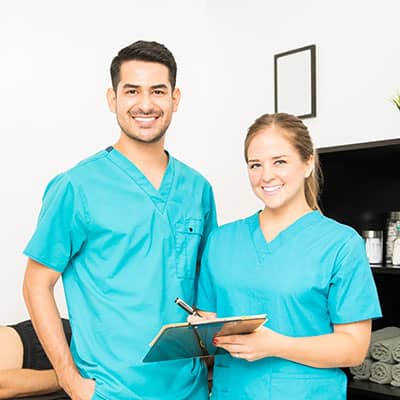 Massage Therapy
11 Month* Diploma | $35,630 median annual salary**
---
16% Job Growth Over Next 10 Years
Graduates hired by spas, hospitals, fitness centres, or are self-employed
Advance and grow your practice in areas that interest you, such as rehabilitation, energy work, reflexology and more!
* Program length when completed in normal time
** https://www.labormarketinfo.edd.ca.gov/cgi/databrowsing/occExplorerQSDetails.asp?soccode=319011 visited on August 12, 2021. Salary source for massage therapists with the lowest 25th percentile earning $30,514 to the highest 75th percentile of workers earning $54,558.
Become a Confident Massage Therapist
During this program, you will learn:
Massage Techniques for Sports Massage Applications
Swedish Massage Training
Trigger point and Deep Tissue Massage Therapy Training
Diploma Features:
Swedish Massage
Sports Massage
Trigger Point Massage
Deep Tissue Massage
Massage Safety
Professional Standards and Ethics
Job Outlook
There is an increase in demand for Massage Therapists! As long as people are active there will continuously be a need for Massage Therapy. As more people enjoy an active lifestyle of participating in sports or going to the gym the need for sports massage therapists will continue to grow. Employment of Massage Therapists is projected to grow 16.4% from 2018 to 2028**, much faster than the average for all occupations.
Being enrolled in Healthcare Career College had opened many doors for me. As a student, I was always encouraged by the staff and my instructors every day. I was determined to make everyone proud, and learn as much as I could about ultrasounds. Everything that was available to us was extremely helpful and brought out every students potential.