Enroll at California's Top Ultrasound Technician School
Diagnostic Medical Sonography Program in South Los Angeles, CA
Because of the continuing advancement in Sound Technology, there is a continuous demand for well-trained and highly skilled Ultrasound Technicians as integral part of the medical team. In addition to Diagnostic Ultrasound procedures most commonly used during pregnancy, sonographers are also trained to specialize in obtaining images of internal body organs and blood vessels for medical diagnosis.
Medical Assistant is a great foundation for those applying for the Ultrasound Technician and Nursing programs.
Healthcare Career College, located in Paramount, CA, serves ultrasound technician students in Long Beach, Compton, Lakewood, Downey, Bellflower, Norwalk, Cerritos, the greater Los Angeles area and north Orange County.
The best way to see if Healthcare Career College is the right fit for you is to attend an information session. You can book an information session to get a true feel for what it's like to be a part of the Healthcare Career College community. Schedule an information session now or Get more info.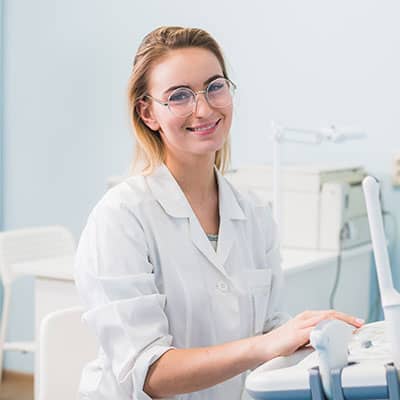 Diagnostic Medical Sonography
19 Month* Diploma or 24 Month* Degree | $106,508 median annual salary**
---
28% Job Growth Over Next 10 Years
Graduates hired by hospitals, medical imaging centers, & OB/GYN clinics
1 Certification Track (ARRT)
Advance into Cardiac Sonography, Vascular Technology, Ultrasound Technology Management and much more!
* Program length when completed in normal time
** https://www.labormarketinfo.edd.ca.gov/OccGuides/Detail.aspx?Soccode=292032&Geography=0601000000 visited on August 12, 2021. Salary source for diagnostic medical sonographers with the lowest 25th percentile earning $88,255 to the highest 75th percentile of workers earning $136,250.
Diploma and Degree Options
Healthcare Career College offers a 19-month* Diagnostic Medical Sonography Diploma for those who wish to take a shorter program and quickly start a career. Alternatively, you can take the remaining courses to complete the 24-month* Associate Degree program, which could lead to increased opportunities and a wider breadth of knowledge.
At Healthcare Career College, we offer two Diagnostic Medical Sonography programs:
Diagnostic Medical Sonography – Diploma (19 months*):
If you are looking to quickly start a career in Ultrasound Technology, consider our 19-month* Diploma program. This program is intended for those who wish to take a faster, less in-depth approach to becoming an Ultrasound Technology professional.
Diagnostic Medical Sonography – Associate's Degree (24 months*):
The 24-month* Associate Degree in Diagnostic Medical Sonography will provide you with the hands-on training and knowledge that Ultrasound Technology professionals use daily. Upon completion of this program, you will feel fully prepared to start a career as an Ultrasound Technology professional.
What Does an Ultrasound Technician Do?
To become an effective ultrasound technician, it's important to understand what the job entails.
Ultrasound Technicians provide diagnostic imaging services through the use of high-frequency sound waves. They are responsible for operating the ultrasound equipment, correctly positioning patients during exams, and interpreting images.
Additionally, they must work in a fast-paced environment and maintain accurate records of patient examinations. Effective communication is essential to explain examination procedures and relevant results properly. Other duties they may perform include:
Conducting physical examinations
Recording medical histories
Provide patient education
Monitoring fetal growth and development
Making referrals to specialty physicians when necessary
Perform clerical duties and manage medical records
Become a Qualified Ultrasound Technician
The Healthcare Career College Ultrasound Tech program is designed to give you the hands-on training, technical knowledge and industry experience you need to pursue a successful career as a Sonographer.
As a graduate of Ultrasound Technician school, you'll have the skills and knowledge employers are looking for, including the following areas:
Anatomy and Physiology
Medical Terminology
Physics and Instrumentation
Abdominal Sonography
Obstetrics and Gynecology
Introduction to Vascular and Echocardiography
Musculoskeletal Sonography
Breast Sonography
Emergency Sonography
Small Parts including Thyroid, Scrotum and Prostate​
Degree Features:
Free certification preparation and testing
ARRT approval
Tutoring and student support services
Affordable tuition
Small class sizes, personal attention
Experienced, qualified and caring instructors
Financial Aid Available
Job Outlook:
Small and large organizations hiring
Employment growth of 27.5% from 2018 to 2028**
Career growth potential
Certification is accepted nationally
I enrolled into Healthcare Career College because I liked what they told me about the ultrasound program. It sounded very hands on and something I would enjoy. My teachers were such a big help and always pushed me to stay on course. I feel as though I was prepared for my extern. My advice to any students who want to attend Healthcare Career College, is to take it seriously and know that the teachers and staff are really here to help you.
Sonography Career Paths
Career opportunities for ultrasound technicians are growing. The Bureau of Labor Statistics predicts that the job outlook for this profession will increase by 19% between 2020 and 2030, with most finding work at:
OB/GYN clinics
Hospitals
Physician offices
Urgent care centers
Imaging centers
Vascular laboratories
Emergency medical services
Some ultrasound technicians may specialize in a particular field, such as cardiac sonography, vascular technology, or obstetrics and gynecology. With specialized training, they can also pursue higher-level positions like a sonographer in charge or director of a diagnostic imaging department.
Healthcare Career College produces well-trained, highly skilled ultrasound technicians. Our graduates have been hired by:
Dusk to Dawn Urgent Care
Lynwood Imaging
Meet Your Baby Imaging Center
And more!
Salary
The average salary for an Ultrasound Technician in the United States is around $106,508 per year or $51.21/hour. However, depending on your experience and level of certification or licensure, this can vary significantly.
At Healthcare Career College, our students have the opportunity to pursue a rewarding career in the ever-growing field of Diagnostic Medical Sonography. Students gain hands-on experience in the classroom and clinical setting to ensure they are well-prepared from day one.
Our experienced faculty, small class sizes, and one-on-one tutoring give our students the best tools to succeed in the field.
View Diagnostic Medical Sonography job postings in Paramount, CA on Indeed.com
Nationally Recognized Certification
Diagnostic Medical Sonography certification is required to work in hospitals. The American Registry of Radiologic Technologists (ARRT) provides credentialing exams available to students upon graduation from the Associate Degree program. ARRT credential is verification that a candidate has met professional standards for medical imaging. Healthcare Career College is an approved provider with ARRT.
While California does not require certification and licensing, employers often prefer to hire licensed technicians. To become certified, you must pass the American Registry of Diagnostic Medical Sonography (ARDMS) or the American Registry of Radiologic Technologists (ARRT) exams.
Completing a board-approved sonography course is a prerequisite for taking the certification exams. There are three degree options:
A one-year certificate program
A two-year Associate's Degree
Four-year bachelor's degrees
Why Choose a CAAHEP Accredited Program?
The Commission on Accreditation of Allied Health Education Programs (CAAHEP) sets standards for quality education programs and ensures they maintain those standards. CAAHEP accreditation assures employers, students, and the public that an educational program has undergone rigorous review and meets set criteria.
Healthcare Career College is nationally accredited, and our students are guaranteed quality education that meets the profession's standards. Graduates have an advantage over other applicants since employers prefer to hire those who have completed an accredited program.
Additionally, our instructors are credentialed professionals and have experience in the field. They provide students with real-world knowledge they can apply once they enter the workforce.
Check Out Other Healthcare Career Training Opportunities at Healthcare Career College
Medical Assistant
Medical Billing and Coding
Dental Assistant
Physical Therapy Aide
Massage Therapy
Is a Rewarding Career in Diagnostic Medical Sonography Right for You? Get More Info…
If you're interested in learning more about careers in Diagnostic Medical Sonography and exploring whether Healthcare Career College is right for you, fill out the form on this page to receive more information.
For immediate questions, call (562) 804-1239
*Program length when completed in normal time. Evening schedule is 21 months in normal time.
**Source: EDD/LMID Occupational Employment Statistics Survey 2021