Become a Successful Phlebotomy Technician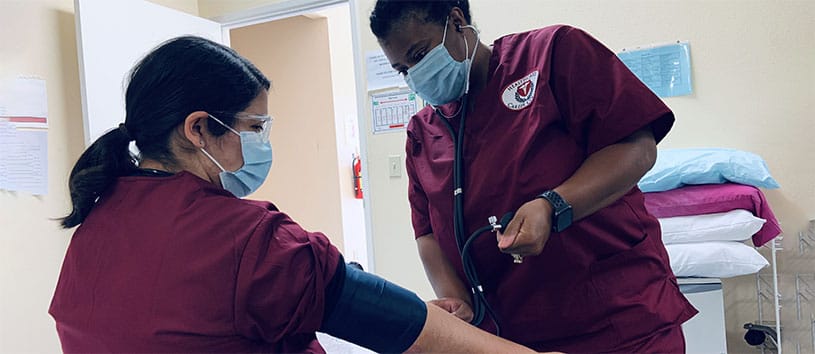 6-Week* Phlebotomy Technician Certificate Program in South Los Angeles, CA
Be eligible to obtain a State License as a Phlebotomy Technician to draw blood in hospitals or medical labs and work independently for medical and life insurance companies. If you've completed training in or are already working in the healthcare field, becoming a qualified Phlebotomy Technician could allow you to expand your medical services and open up additional employment opportunities.
Phlebotomy, sometimes called Venipuncturists, play an important role in the clinical lab. The main duty of a Phlebotomist is to draw patients' blood for testing. Phlebotomy training can be an excellent way to expand your marketable healthcare skills and improve potential employment opportunities, without spending months in school.
Students in this program attend class for a total of 6 Saturdays.
Next Start Date: Nov 18thPhlebotomy Technician Healthcare Career College - Paramount 8527 Alondra Blvd, Suite #128 Paramount CA USA 90723 You can start a rewarding career as a Phlebotomy Technician in as little as 6 weeks*! Learning to draw blood from patients is an important skill that many healthcare professionals need and may increase potential employment opportunities for you.https://healthcarecareercollege.edu/wp-content/uploads/2020/06/phlebotomy-hero-opt.jpgHealthcare Career College
Healthcare Career College, located in Paramount, CA, serves Phlebotomy Technician students in Long Beach, Compton, Lakewood, Downey, Bellflower, Norwalk, Cerritos, the greater Los Angeles area and north Orange County.
The best way to see if Healthcare Career College is the right fit for you is to attend an information session. You can book an information session to get a true feel for what it's like to be a part of the Healthcare Career College community. Schedule an information session now or Get more info.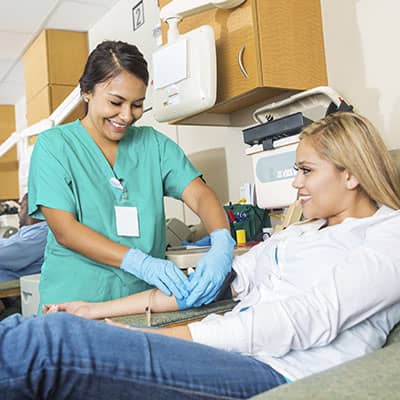 Phlebotomy Technician
6 Week* Certificate | $47,620 median annual salary**
---
27% Job Growth Over Next 10 Years
Graduates hired by nursing homes, hospitals, & home healthcare services
1 Certification Track (CPT1)
Advance into a Licensed Practical Nurse, Registered Nurse, Geriatric Care Manager and much more!
* Program length when completed in normal time
** https://www.labormarketinfo.edd.ca.gov/OccGuides/detail.aspx?Soccode=319097&Geography=0601000000 visited on August 12, 2021. Salary source for phlebotomists with the lowest 25th percentile earning $40,182 to the highest 75th percentile of workers earning $56,073.
Become a Qualified Phlebotomy Technician
The Phlebotomy Technician Certificate program from Healthcare Career College can give you the hands-on training, practical experience and professional support it takes to become a successful, certified medical lab professional.
Phlebotomy classes provide training in both basic didactic and advanced didactic components. You'll learn:
Infection Control
Skin Puncture Techniques
Venipuncture Techniques
Blood Sample Collection and Processing
Phlebotomy Technician school is highly recommended for candidates who have completed training in or are already working in the health care field.
Program Features:
Above 90% pass rate
California Department of Health (CDPH) approved
Books, supplies, exam fee and state certification fees included
Job Outlook:
Small and large organizations hiring
Employment growth of 26.7% from 2018 to 2028**
Career growth potential
Certification is accepted nationally
Being enrolled in Healthcare Career College had opened many doors for me. As a student, I was always encouraged by the staff and my instructors every day. I was determined to make everyone proud, and learn as much as I could about ultrasounds. Everything that was available to us was extremely helpful and brought out every students potential.
Career Opportunities
Phlebotomists with experience may work in hospitals or medical labs. CPT1 certification is not required to draw blood in doctor's clinics. It is only required to draw blood in hospital or lab setting.
Our grads have been hired by:
West Coast Clinical Trials
Kaiser Permanente
Healthcare Partners
Long Beach Memorial Center
And more!
Median Pay: $22.89/hour**
View Phlebotomy Technician job postings in Paramount, CA on Indeed.com
Clinical Externship: Practical On-the-Job Experience
As a student in the Healthcare Career College Phlebotomy Tech program, you'll have the opportunity to gain practical experience in a real clinical lab environment. Under supportive supervision, you'll complete a total of 50 venipunctures and 10 skin punctures.
You'll feel confident as you transition from student into the professional world, ready to move into a professional medical lab environment, after gaining relevant work experience during your training.
Nationally Recognized Certification
Successful graduates of Phlebotomy Technician school are eligible to take the State Certification Exam for licensure as a Certified Phlebotomy Technician (CPT1). Students need to complete theory, take the test and submit externship paperwork.
Check Out Other Healthcare Career Training Opportunities at Healthcare Career College
Medical Assistant
Medical Billing and Coding
Dental Assistant
Physical Therapy Aide
Massage Therapy
Is a Rewarding Career in Phlebotomy Technology Right for You? Get More Info…
If you're interested in learning more about careers in Phlebotomy Technology and exploring whether Healthcare Career College is right for you, fill out the form on this page to receive more information. Checkout our other certifications in LVN Program, Ultrasound Technician Program, Massage Therapy and many more.
Frequently Asked Questions
What is phlebotomy, and what does a Phlebotomy Technician do?
Phlebotomy is the practice of drawing blood for medical testing. A Phlebotomy Technician plays an essential role in the clinical lab. The main duty of a Phlebotomist is to draw and collect patients' blood for testing and ensures proper handling.
How do I become a Phlebotomy Technician?
To become a Phlebotomy Technician, get a high school diploma and enrol in a training program. The Phlebotomy Technician Certificate program from Healthcare Career College can give you hands-on training, practical experience, and professional support.
What are the career opportunities for Phlebotomy Technicians in South Los Angeles?
Phlebotomy Technicians find opportunities in hospitals, clinics, and labs in South Los Angeles. Advancement options include lead roles or pursuing medical assisting.
What skills are essential for a successful Phlebotomy Technician?
Essential skills for success include venipuncture techniques, medical terminology knowledge, and excellent communication with patients.

For immediate questions, call (562) 804-1239
*Program length when completed in normal time.
**Source: EDD/LMID Occupational Employment Statistics Survey 2021