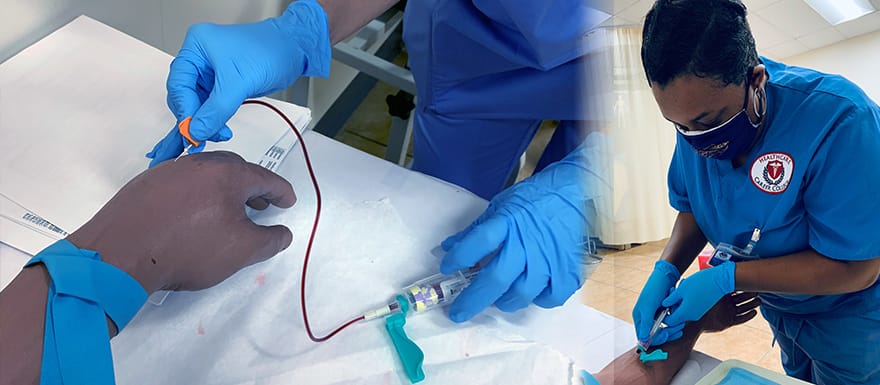 Are you interested in starting a career in Phlebotomy? Are you unsure where to start or how? This article will explain the different pathways to a rewarding career as a Phlebotomy Technician in California. We will cover the education and training requirements to be eligible to sit for a phlebotomy licensing examination. Phlebotomy uses venipuncture or puncturing the skin into the vein to obtain blood for testing, diagnosis, dialysis, or donation purposes.
Phlebotomists can work in a variety of healthcare facilities such as hospitals, clinics, dialysis centers, and much more. According to the US Bureau of Labor Statistics, the demand for Phlebotomists is estimated to increase by 17 percent within the next ten years. Additionally, California is one of the top highest paying states for Phlebotomists. If you would like to know how to start a career in Phlebotomy in California then continue reading.
Become a Certified Phlebotomy Technician
Academic Requirements
According to the CDPH or California Department of Public Health, there are academic requirements that need to be completed and included in an application for phlebotomy licensure. Academic requirements from the CDPH includes:
An official transcript showing a graduation date from an accredited high school
Or, pass one of the following tests:
General Educational Development (GED)
High School Equivalency (HiSET)
California High School Proficiency Examination (CHSPE)
Or
Provide official transcript of general education credits from an accredited college or university
If official transcripts are from outside the United States, they need to be in English and evaluated by the National Association of Credential Evaluation Services (NACES) or the Association of International Credential Evaluators, Inc. (AICE).
Training Requirements
Any Phlebotomy training needs to be completed through a Phlebotomy program approved by the California Department of Health. According to the CDPH, there are training requirements that need to be completed and included in an application for Phlebotomy licensure. There are three options that may apply to you depending on experience, work history, and education that include:
Applicants with no on-the-job experience or less than 40 hours of phlebotomy experience
Applicants with at least 40 hours of phlebotomy experience, but less than 1040 of on-the-job experience in the past 5 years
Applicants with 1040 or more hours of on-the-job phlebotomy experience in the past 5 years
Students will fall in one of the above categories and will be required to follow the steps associated with each individual pathway. Training requirements will vary from person. Some schools will include a phlebotomy course in other medical career programs, so check with your school for more options. For additional information on about each phlebotomy training pathway visit the official CDPH website.
Examination Requirements
Students interested in obtaining certification as a phlebotomist can take a national certification exam from one of the following certifying agencies approved by the California Department of Health:
American Certification Agency (ACA)
American Medical Certification Association (AMCA)
American Medical Technologists (AMT)
American Society of Clinical Pathology (ASCP)
National Center for Competency Testing (NCCT/MMCI)
National Credentialing Agency for Laboratory Personnel (NCA)
National Healthcareer Association (NHA)
If you obtain certification through any of these associations, it will need to be renewed every two years, a process that may include paying all applicable fees, continuing education, and documentation. There are various types of certifications available, so check with your local certifying agency to clarify what application requirements are needed to obtain and keep certifications up-to-date in the state you reside in.
Start a Career as a Phlebotomy Technician
After learning how to start a career in Phlebotomy in California, are you interested in pursuing a career in Phlebotomy? Phlebotomists are essential in the medical field. They carry a set of skills and credentials that allow them to perform venipunctures safety on patients for a variety of reasons. The demand for Phlebotomists continues to grow and is expected to increase over the next few years.
Starting a career in Phlebotomy doesn't require long rigorous schooling and the only prerequisite you need to get started is your official transcripts showing you have met academic standards equal to a high school diploma. Some accredited Phlebotomy programs offer help with obtaining your GED, so you can break down boundaries that may keep you from pursuing your career in Phlebotomy. If you are interested in starting a career as a Phlebotomy Technician then visit healthcarecareercollege.edu and speak with an admissions representative to get started today!
References
https://www.cdph.ca.gov/Programs/OSPHLD/LFS/Pages/Phlebotomist.aspx
https://www.bls.gov/ooh/healthcare/phlebotomists.htm#tab-1
Is a Rewarding Healthcare Career Right for You? Get More Info…
If you're interested in learning more about careers in healthcare and want to take phlebotomy classes los angeles and exploring whether Healthcare Career College is right for you, fill out the form on this page to receive more information.
For immediate questions, call (562) 804-1239