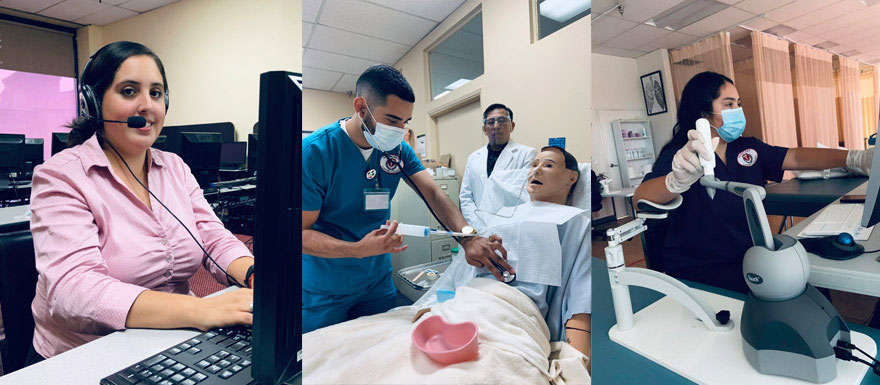 Ever wanted to pursue a career in healthcare, but prefer to work behind the scenes helping patients? Healthcare not only provides a wide range of careers, but offers students the option to work in a variety of healthcare environments that involves little to no direct patient care. You can pursue a healthcare career where you learn what other medical professionals are taught, but you provide patient care in other ways such as; billing and coding for insurance reimbursement, managing the quality-of-care patients receive, or using an ultrasound machine to capture internal images of the human body to aid in the diagnosis of a patient. Even careers that don't involve direct patient care have important roles in the medical field. If you'd like to know 3 healthcare careers that don't require direct patient care then continue reading.
Medical Biller and Coder
A Medical Biller and Coder will work closely with physicians and other health administrators to bill and code a patient's visit to the doctor and services and diagnoses provided if any. Although Medical Billing and Coding go hand in hand, they are two different careers in one. A Medical Biller will create electronic or paper claims that are sent to an insurance company for payment. A Medical Coder will interpret a physician's written documentation or a patient's medical record and code all treatments, procedures, and diagnoses. Medical Biller and Coders have the option to work as a biller, coder, or both depending on the facility.
Medical Biller and Coders find themselves working in hospitals, doctors' offices, insurance companies, or even from home. More commonly, Medical Biller and Coders don't work directly with patients. If there are any billing issues, a biller would contact a patient via telephone or by other communications. This is a great career for any individual that would like to work in the medical field, but enjoys working in an office environment. As a Medical Biller and Coder, you have a comprehensive knowledge of medical terminology, anatomy and physiology, and familiarity of various insurances. Medical Biller and Coders are an essential part of the revenue cycle for a provider or insurance company and without them corporations and businesses alike wouldn't obtain payment to continue providing patient care.
Healthcare Management
If you enjoy a fast-paced environment where you are in charge of the type of care a patient receives or would like to advance your medical career and join the Healthcare Management team, then earn a degree in Healthcare Management. The majority of work in Healthcare Management will include; planning, directing, coordinating health services, and managing healthcare offices. It's recommended you have some form of prior experience in the medical field before pursuing a career in Healthcare Management. Having prior medical experience will prepare you for a career in Healthcare Management because students have a general understanding and familiarity of medical terminology, office procedures and policies, as well as being comfortable communicating with various healthcare professionals.
Healthcare Management has career advancement and is in demand in all types of healthcare facilities such as; insurance companies, physicians' offices, hospitals, and clinics. This career doesn't require direct patient care, but offers the potential for great starting salaries and benefits such as; job flexibility, career advancement, job outlook, as well as job mobility. Wherever there is a healthcare facility, there is a need for Healthcare Management. If you are looking to advance your career as a healthcare professional, obtain a degree in Healthcare Management and start your journey into a management position in the medical field.
Ultrasound Technician
An Ultrasound Technician will work closely with physicians, nurses, and other healthcare professionals. They use ultrasound machines that send sound waves to the human body which creates echoes that appear as images on the ultrasound screen. The images captured are then used to identify and diagnose any abnormal findings such as; tumors, cysts, inflammation, etc. The unique part of being an Ultrasound Technician is that although you interact with patients you don't provide direct patient care.
The majority of an Ultrasound Technician's work will involve navigating ultrasound machinery, scanning patients for a limited amount of time, and reporting their findings to the attending physician. The diagnoses, treatment, and prognosis are planned and administered by their primary care Physician or the healthcare professional attending to them. Ultrasound Technicians have a comprehensive knowledge of ultrasound physics, anatomy and physiology, and scanning techniques.
This career is a great choice for someone who is interested in a healthcare career that involves working with technology, hospital and clinical environments, and wants to learn about diseases of the body. A career as an Ultrasound Technician requires little to no patient interaction, but offers the challenge and fulfillment similar to other healthcare careers.
Start A Rewarding Healthcare Career That Doesn't Involve Direct Patient Care
If you are someone who would like to experience the benefits and fulfillment of a healthcare career, but would like to help patients behind the scenes, then a career as a Medical Biller and Coder, a career in Healthcare Management, or a career as an Ultrasound Technician may be right for you! Although each healthcare career has similarities and differences, they all work toward a common goal, which is to help patients receive the highest quality of care possible.
You can make a difference in someone's life, but you don't necessarily need to be on the front lines in the healthcare field. Ensuring a patient is properly billed while a provider is paid accordingly, ensuring a healthcare facility is following protocol and policies in accordance with state regulations, or utilizing technology as a means to assist in a diagnosis that may catch a disease in its early stages are all essential components of healthcare. If you'd like to start a rewarding career that doesn't involve direct patient care, then visit healthcarecareercollege.edu and speak with an admissions representative to get started today!
Is a Rewarding Healthcare Career Right for You? Get More Info…
If you're interested in learning more about careers in healthcare and exploring whether Healthcare Career College is right for you, fill out the form on this page to receive more information.
For immediate questions, call (562) 804-1239