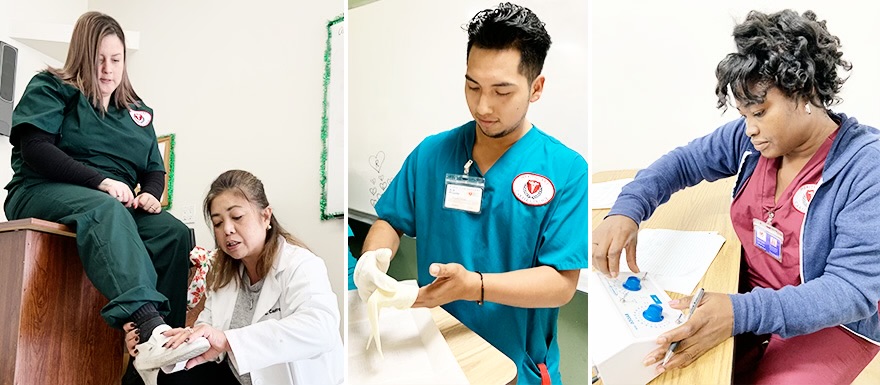 Since we are still amid the COVID-19 pandemic, the healthcare industry will continue to have a vast amount of healthcare careers expected to remain profitable! With an aging community, a renewed focus on preventative care, and a greater need for healthcare services, the industry will continue to expand, adding about 2.6 million new jobs than any other occupational group in healthcare making these jobs more popular. According to the Bureau of Labor Statistics (BLS), employment in the healthcare occupation is projected to grow 16 percent over the next decade.
Healthcare professionals have played a considerable role throughout the COVID-19 pandemic as a new crisis emerged for healthcare heroes to help fight the virus. These unfortunate events have affected our mental health and physical well-being, reminding us of the importance of care and the support of our medical professionals with their healthcare services.
Here are some of the fastest-growing healthcare positions and educational backgrounds in order to commence in 2022.
Nurse Practitioners
Nurse practitioners are exceptionally skilled medical professionals in the healthcare field. If you are currently a nurse and want to expand or advance your career, attaining your Master of Science in Nursing (MSN) and pursuing a career as a nurse practitioner might be something to acknowledge. Responsibilities can vary depending on specialization as a nurse practitioner. A few common types of NP specialties are:
Acute Care (ACNP)
Adult-Gerontology (AGNP)
Family Practice (FNP)
Psychiatric/Mental Health (PMHNP)
Women's Health (WHNP)
NPs are licensed medical professionals who generally provide a wide range of advanced acute, primary, and specialty care to patients such as diagnosing and treating a variety of illnesses, ordering lab tests, prescribing medication, observing patients, managing RNs and healthcare staff, and implementing treatment plans and practices within their team of healthcare professionals.
NPs can work in a variety of healthcare settings and nursing environments such as hospitals, emergency rooms, offices, private physicians, nursing homes, public health departments, schools, correctional facilities, home health, and outpatient care centers.
Job outlook: 45% increase from 2020-2030
Average salary: $117,670 per year/$56.57 per hour
Education requirement: Master of Science in Nursing (MSN)
Medical Assistants
One of the fastest ways to start a career in the healthcare field is by becoming a medical assistant. This career path is the entry-level to get your foot in the door of healthcare. Medical assistants' responsibilities may interchange depending on assigned roles and what the employers need. Medical assistants perform both administrative and clinical tasks considerably in a healthcare organization. Their responsibilities usually include scheduling appointments, obtaining blood samples, recording patient information, measuring vital signs, sterilizing and arranging instruments, and cleaning and preparing exam rooms for patient examinations.
Medical assistants generally need to obtain their postsecondary degree such as a vocational diploma or associate degree from an accredited school. In most states, the requirements may vary by employers. Preferably, employers acknowledge candidates who have fulfilled national credentialing for it indicates an additional level of commitment to their profession in healthcare. Medical assistants can work in hospitals, nursing homes, physicians and surgeons, health clinics, optometrists, chiropractors and doctors, and podiatrists.
Job outlook: 18% increase from 2020-2030
Average salary: $35,850 per year/$17.23 per hour
Education requirement: Associate degree or vocational diploma
Occupational Therapy Assistants
Occupational Therapy Assistants (OTAs) implement an essential role in providing help and assistance to occupational therapists. OTAs spend most of their time on their feet making sure their treatment facility operates smoothly while helping clients develop, recover and improve activities of daily living while providing treatment and necessary procedures.
Occupational therapy assistants must complete an associate degree from a community college or an accredited vocational school to qualify in earning a position. OTAs can work primarily in occupational therapists' offices, hospitals, and nursing care facilities. In collaboration with occupational therapists, OTAs develop treatment plans, monitor and document progress, execute and support routine functions correctly, provide encouragement to their clients, and document billing of the client's health insurance provider.
Job outlook: 36% increase from 2020-2030
Average salary: $60,950 per year/$29.30 per hour
Education requirement: Associate degree
Physical Therapy Aides
Physical Therapy Aides or Physical Therapy Assistants (PTAs) exert an essential role in providing and helping physical therapists and their colleagues to provide rehabilitative care. They provide in caring for patients who are recovering from injury to manage pain and regain mobility. Their main responsibilities are to counsel and observe patients during and after therapy sessions, assign specific exercises essential to patient needs, and provide devices such as crutches, walkers, and other equipment to help support patients in attaining movement and reducing pain.
For educational requirements, physical therapy aides need to acquire an associate degree from a community college or a licensed certification from a vocational program to pursue their practice in the field. Physical therapy aides can work in hospitals, nursing homes, outpatient clinics, private practices, sports and fitness facilities, and schools.
Job outlook: 35% increase from 2020-2030
Average salary: $49,970 per year/$24.02 per hour
Education requirement: Associate degree or vocational diploma
Healthcare Managers
Healthcare managers, also known as medical and health services managers, are organized professionals that are directors, coordinators, and managers who work behind the scenes to maintain group practices, hospitals, nursing homes, and other facilities running efficiently. Healthcare managers are reliable for staying substantial of all the development in the industry as well as communicating and implementing these adjustments to facilitate the business of healthcare smoothly.
To become a healthcare manager, you must at least obtain your bachelor's degree or associate of science in healthcare management degree from an accredited school to ensure the level of academic quality. Earning this degree is imperative because it incorporates knowledge from both the healthcare and business fields. Healthcare managers work in hospitals, medical centers, nursing homes, ambulatory care centers, private practices, outpatient health facilities, doctors' offices, health insurance companies, and pharmaceutical companies.
Job outlook: 32% increase from 2020-2030
Average salary: $ 104,280 per year/$50.13 per hour
Education requirement: Associate and Bachelor's degree
Is a Rewarding Career in Healthcare Right for You? Get More Info…
If you're interested in learning more about careers in Healthcare and exploring whether Healthcare Career College is right for you, fill out the form on this page to receive more information.
For immediate questions, call (562) 804-1239
SOURCES: