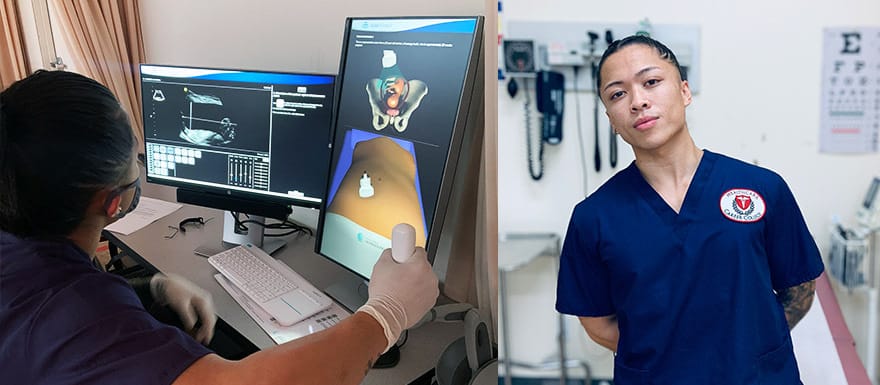 What Were You Doing Before Choosing to Become an Ultrasound Technician?
Joshua Salas previously worked at a Psychiatric facility, but wanted to further his career in the medical field for several reasons. He chose Healthcare Career College because he felt the curriculum, the scheduling flexibility, and the overall quality of the Diagnostic Medical Sonography program that further solidified his decision to become an Ultrasound Technician. After doing his research into other options in regards to which school he would like to attend, Healthcare Career College had the tools and resources available to help him reach his career goals. He completed the first step to enrolling into school that included; financial aid, orientation, and a school tour, among others. He made the decision to become an Ultrasound Technician and has found success throughout his experience in the Diagnostic Medical Sonography program here at Healthcare Career College.
What Inspired You to Pursue a Career as an Ultrasound Technician?
Aside from wanting to further his career in the medical field, there were other inspirations that motived Joshua to decide to go back to school. The potential starting salary that Diagnostic Medical Sonographers can make is one of the inspirations that led Joshua to become an Ultrasound Technician. As he researched further into a career as an Ultrasound Technician, he realized that there are several benefits that come with this career which include; career advancement, higher earning potential, and the job outlook. After speaking with his peers, he found reassurance and continued onward to pursuing his dream of becoming an Ultrasound Technician.
What is the Structure Like of a Diagnostic Medical Sonography Program?
Joshua explains how going to school to become an Ultrasound Technician is a full-time commitment. He attends class Monday through Thursday and has job obligations outside of school. Finding a balance between work, having a personal life, as well as attending class is a constant challenge for him, but he urges students to stay positive and motivated to focus on the bigger picture. Joshua has found ways in dealing with such challenges. Following Healthcare Career College's itinerary that is provided by their instructor for Ultrasound Technician students helps Joshua stay on track and helps prepare ahead of time for the day, week, or the following week of assignments, test, or mid-terms and finals. Joshua explains how prioritizing your time will lead you in the right direction to reaching your career goals. He mentions that staying focused and sacrificing the time now will be worth it in the end.
What Does a Typical Day in the Ultrasound Lab Look Like?
A typical day for Joshua in the Ultrasound lab will include working with advanced ultrasound simulated technology such as ScanTrainers as well as practicing on traditional ultrasound machines. Students use ScanTrainer equipment to learn their hands-on skills part of the Diagnostic Medical Sonography program intended to keep students safe by implementing socially distanced learning. Joshua explains how Ms. Pamela, the Ultrasound Technician lab instructor, helps him in lab with any questions, concerns, or uncertainties he may have. When Joshua is unsure with using the ScanTrainer, our instructors are always there to help. He was hesitant to using virtual learning equipment such as the ScanTrainers, but now encourages students to practice on ScanTrainers first before learning on the traditional ultrasound machines. Joshua believes that learning on the ScanTrainers first will prepare you for real life scanning on real patients. Additionally, ScanTrainers provide students with thousands of pathology (abnormal) cases that they may only had experienced once they were working as an Ultrasound Technician.
What is Your Future Goal?
Joshua's goal is to eventually become an Ultrasound Technician and work at the University of California, Los Angeles hospital. He hopes to increase his salary as he builds his experience as an Ultrasound Technician. Joshua leaves us with his own personal advice from his experience to students just like him.
"It's a lot of knowledge, but make sure you grasp every single one. If you don't understand one, just take a note of it. Don't be lazy, you're taking this course for a reason. You have fellow peers that are in the same wave as you, so make sure to ask them questions. Be positive with the same vibe, then one day when you guys graduate, you're going to see the accomplishments together."
– Joshua Salas, Ultrasound Technician Student at Healthcare Career College
Is a Rewarding Healthcare Career Right for You? Get More Info…
If you're interested in learning more about careers in healthcare and exploring whether Healthcare Career College is right for you, fill out the form on this page to receive more information.
For immediate questions, call (562) 804-1239