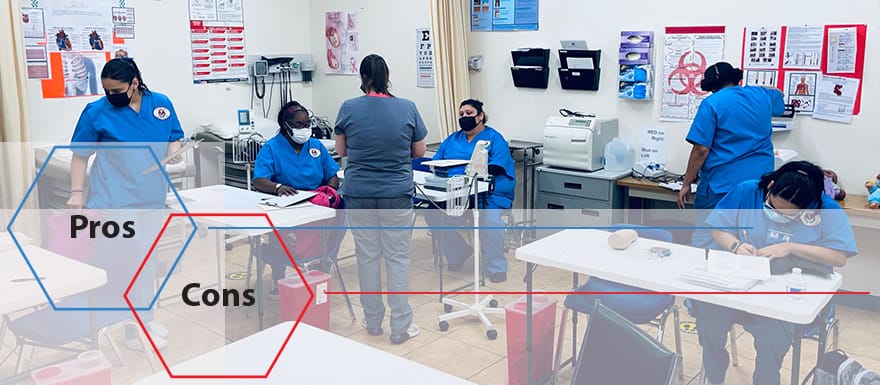 The healthcare industry is one of the largest employment sectors in the world. There are several reasons a person may choose to pursue a career in the medical field. Factors like job security, career advancement opportunities, and earning potential will play a part in your decision making. If you are considering joining the thousands of others who have made the choice to work in the healthcare industry, then you may want to consider the pros and cons.
Understanding the potential positives and negatives of working in a particular employment field can help you determine if a career in the medical field is the right choice for you. Every individual is different when examining their career goals. What one person may want out of a career may differ from the next person. Read and carefully consider each point from the pros and cons sections. Hopefully after reading this article and doing research, you can make the decision to join the growing medical field. If you would like to know the Pros and Cons of Working in the Medical Field, then continue reading.
Pros of Working in the Medical Field
Earning Potential
It is no secret that a career in the medical field can be a lucrative one. Many medical careers offer higher pay incentives with additional credentialling. This may not be the case with every medical career, but the opportunity is there for most. Additionally, if a person were to work in a medical specialty, they could increase their salary because their training is more specifically focused, for example, Cardiology, Endocrinology, Oncology, Pediatrics, etc. Also, earning potential will vary depending on the size of a healthcare facility, the city and state you are employed in, and the type of license or certification you hold.
Career Advancement
Earning potential and career advancement are similar in the manner of obtaining both. As stated earlier, medical professionals can increase their earning potential by obtaining additional licensing or credentials, for example, a CNA or Certified Nurse Assistant can obtain a vocational nurse license by completing additional schooling from a vocational nursing program and sitting for their state's accrediting agency. If a CNA obtained a license as a Nurse this could increase their starting pay substantially. There is no limitation in the medical field and most healthcare careers have the capability to earn additional credentials.
Job Security
Working in healthcare requires intensive training, education, and state regulated certification and licensing protocols. Since the medical field is career-focused, and the extent of your job duties depend on your level of education, training, or credentials,  job opportunities can be abundant depending on the type of medical profession. For example, Dental Assistants are in demand because they have a specific set of skills that are required to keep a dental office functioning.
Career Flexibility
If you work for a large corporation or medical practice, you may be able to transfer your career to other locations within the same company. Additionally, if you obtain a nationally recognized license or certification, you aren't limited to a particular area for job opportunities. For example, Diagnostic Registered Medical Sonographers, also known as an Ultrasound Technicians, can work across state lines and accept travel assignments that vary in length. If you are someone who doesn't have family obligations where they are currently at, then pursuing a medical career may be a great option.
Job Outlook
According to the Bureau of Labor Statistics, healthcare occupations are estimated to increase by 15 percent from 2019 to 2029. The amount of demand and job opportunities are predicted to grow and continue to in the next coming years. Pursuing a career in the medical field is an investment into one of the largest employment sectors in the United States. If you are looking for an opportunity in a particular career category, then the medical field shows promising results.
Cons of Working in the Medical Field
Working Holidays
Injury or illness can strike at any moment. Medical workers are needed in every kind of healthcare facility at all hours of the day and because of this you may find yourself working holidays, ten-to-twelve-hour shifts, and struggling to balance work and life. If you are someone who enjoys working a 9-to-5 work shift and having weekends off, then you may want to reconsider a career in the medical field, unless you work in medical administration where your schedule flexibility may vary. If you choose a career in the medical field, you may work schedules that have split days off, work on-call, and weekends.
Dealing with Patient Mortality
There is a feeling of accomplishment and a sense of peace knowing that you helped a patient reach their health goals, but what about a patient who may be terminally ill? A patient who has a poor prognosis? A patient who came to the emergency room in critical condition? Patient mortality happens and is somewhat expected and more common in certain healthcare facilities.
If a medical professional works in an emergency room, geriatrics, or oncology office, you may experience patient mortality more frequently. This aspect of the medical field should be seriously considered. Sometimes you may find yourself bonded with patients and this makes difficult to hear news such as a patient passing away. Finding ways to cope with patient loss and staying professional in every encounter would be beneficial, but sometimes our emotions may overwhelm the most seasoned medical professional.
Workload
People are constantly coming into a healthcare facility to be cared for and to speak with a physician in regards to their current or future care plans. Whether you're working at an urgent care facility, long-term care facility, or home-health agency, the need for medical workers continues to increase. Sometimes the workload can become overwhelming for healthcare workers because there are multiple patients you may need to oversee in one shift. For example, a nurse may need to supervise six patients at a time ensuring they receive their medications in a timely manner, attend to any request they may have, and carry out treatment plans ordered by their doctor.
One night's workload can be affected by staffing limitation as well. If one person calls out for the night, the rest of the facility will need to pick up the slack leading to a heavier workload. The additional workload a healthcare worker may need to pick up may result in burn outs and sleep deprivation.
Stress in the Workplace
Medical professionals may experience stress in the workplace due to the level of responsibility they carry from patient to patient. Emergency situations, patient workload, and management can add stress to an average work day. The medical field has such a variety of medical career choices that some vary in responsibility, workload, and environment. A career as a Medical Biller and Coder will have stressful situations different from a nurse's day-to-day stressors. There is a sense of responsibility for every patient who comes into the office, and if a mistake is made there could be devastating consequences.
Schedule
Schedules can vary depending on the type of medical career you pursue. A medical career such as a nurse may include a schedule working ten to twelve hour shifts for four days a week. Additionally, there normal 9-to-5 hour shifts that healthcare workers may have, but this all is dependent on the facility you're employed at, staffing needs, and schedules available according to a company's hours of operation.
You may be able to request a particular schedule according to your lifestyle and family obligations, but this is not always the case. Since emergency rooms or hospitals run twenty-four hours a day seven days a week, healthcare workers may experience working graveyard shifts if required. Some positions in a facility may require a you to work an on-call shift, meaning your supervisor may call you at any time of the day or night to come in if needed, periodically.
How to Pursue a Career in the Medical Field?
After reading this article and considering the Pros and Cons of Working in the Medical Field, are you interested in pursuing a career in the medical field? In every employment sector, there are negatives and positives, but if a healthcare career is your dream, you are determined and compassionate, or would like to experience the benefits of working in the medical field then inquire with an admissions team at your local technical, vocational, or community college to find out more information. If you are interested in pursuing a career in the medical field in the Los Angeles county area, then visit healthcarecareercollege.edu and get started today!
Is a Rewarding Healthcare Career Right for You? Get More Info…
If you're interested in learning more about careers in healthcare and exploring whether Healthcare Career College is right for you, fill out the form on this page to receive more information.
For immediate questions, call (562) 804-1239