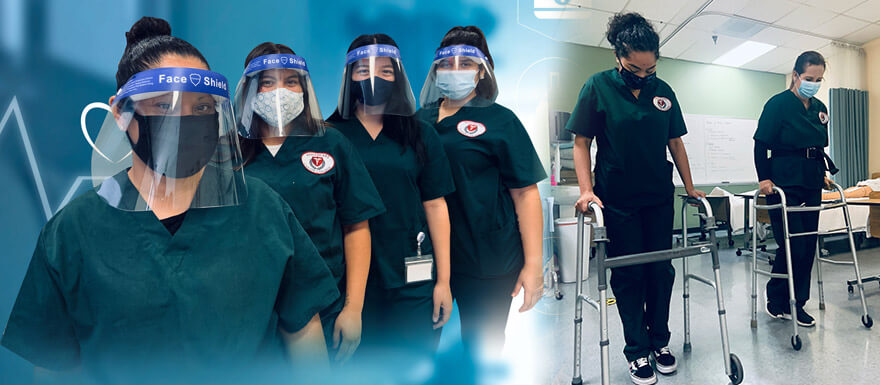 Are you curious about what a day as a Physical Therapy Aide looks like? Would you like to step into the shoes of a Physical Therapy Aide? The role of a Physical Therapy Aide is to help the Physical Therapist and other support staff with administrative and clinical tasks. They play an important part in a patient's rehabilitation and are the foundation to a successful physical therapy facility. A career as a Physical Therapy Aide gives you the opportunity to make a difference by helping the most vulnerable members of your community.
Not to mention a career as a Physical Therapy Aide has a promising job outlook. The demand for Physical Therapy Aides is on the rise, and it is estimated to continue to increase within the next ten years. Physical Therapy Aides are in demand, and with the growing elderly population and advances in medical technology, what a better time to pursue a career in physical therapy than now. Now that you have heard a little bit about what a Physical Therapy Aide is, what does a typical day as a Physical Therapy Aide looks like?
Physical Therapy Aide: What to Expect During a Work Shift
At the beginning of the day, a Physical Therapy Aide will consult with the Physical Therapist about appointments that are scheduled for the day. The Physical Therapist will review a patient's medical record and any progress notes. Many times, the Physical Therapist will do an initial evaluation to determine the level of care he or she will provide. This way, they can ensure that the proper equipment and treatment areas are set up for each patient. In a typical physical therapy environment, there will be various types of equipment used depending on a patient's treatment plan.
There will be patients who may need a higher degree of care depending on their type of injury or disability. Appointments can last anywhere from 30 to 60 minutes. In between patients you will clean, organize, return, or set-up equipment for the next patient. Additionally, you will document and report patient progress to the Physical Therapist on duty. In general, most clinics are open during regular business hours from 8 a.m. to 5 p.m., so a Physical Therapy Aide who works full-time can expect a busy, but predictable day.
As a Physical Therapy Aide, you will be expected to perform a variety of skills. This can include giving directions to patients or assist them with exercises under the direction of the Physical Therapist, transporting patients to and from treatment areas using walkers, wheelchairs, etc., or changing linens such as bed sheets and pillow cases. Throughout a work shift, a Physical Therapy Aide can complete any number of these tasks. This will depend on the patient and their needs. The Physical Therapist will direct you on what exercises you will help with or administer. The training a Physical Therapy Aide receives during school will be how they know which equipment they will need to set-up for that patient.
Physical Therapy Aide: Work Environment
Physical Therapy Aides have a variety of places they can work at. More commonly Physical Therapy Aides can work in hospitals, rehabilitation centers, or private physical therapy offices. Physical therapy will include the use of different rehabilitation techniques to help patients recover from a variety of injuries, illnesses, or disabilities. Due to this, Physical Therapy Aides will set-up and store equipment such as; gym equipment, ramps, exercise balls, ultrasound, and resistance exercise bands just to name a few.
Physical Therapy Aides work under the direction of a Physical Therapist and Physical Therapist Assistant. More often a Physical Therapy Aide will work according to the tasks assigned to them at the start of their day. Since every patient's treatment plan is different, your work environment is always changing. One moment you may be setting up equipment, the next you are completing documentation for the Physical Therapist to review. You may work in a facility that focuses on a particular part of the body, for example:
Cardiovascular & Pulmonary Clinical Specialist (CCS)
Geriatric Clinical Specialist (GCS)
Orthopedic Clinical Specialist (OCS)
Neurology Clinical Specialist (NCS)
Pediatric Clinical Specialist (PCS)
Oncology Specialist
Women's Health Specialist (WCS)
Electrophysiologic Clinical Specialist (ECS)
Sports Clinical Specialist (SCS)
Wound Management Specialist
Summary
In conclusion, a career as a Physical Therapy Aide will consist of various tasks throughout the day. A Physical Therapist will delegate what a patient's treatment plan will include and the goals they would like for their patient to meet for that day. The Physical Therapy Aide is there to help patients with manual exercises, ensure a patient is safe throughout their session, clean, organize, and set-up equipment. Additionally, a Physical Therapy Aide will complete documentation related to the patient's progress and report to the Physical Therapist for any added direction. Each day will depend on the number of patients scheduled for that day and a patient's treatment plan.
Is a Rewarding Career as a Physical Therapy Aide Right for You? Get More Info…
If you're interested in learning more about careers as a Physical Therapy Aide and exploring whether Healthcare Career College is right for you, fill out the form on this page to receive more information.
For immediate questions, call (562) 804-1239
Sources