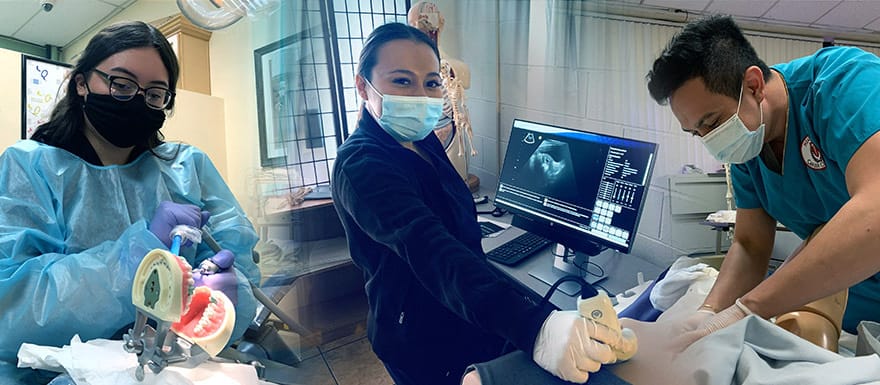 Thinking About a Career in Healthcare?
Healthcare is one of the fastest growing sectors for employment. It's versatility and benefits give healthcare careers the lucrative qualities that people are interested in. There are several types of healthcare careers that a person can pursue, but how do you know which one is right for you? Since every healthcare career is unique, we have a few categories that will focus on the type of personality traits you may have and which career would best fit those characteristics. The following categories are broad in nature and should not be the only reason one person may choose a particular career, but it can help direct your attention to a healthcare career that may be the perfect fit for you. Follow along as we explain which healthcare careers may be right for you.
Do You Like Working with Advanced Technology?
Advances in technology has improved the effectiveness of technological equipment we use in several sectors of healthcare today. Every change in technology is another opportunity for healthcare professionals to refine their diagnostic practices and help patients receive the highest quality of care possible. If you like to work with technology then maybe a career as an Ultrasound Technician is right for you.
Ultrasound Technician
Ultrasound Technicians use ultrasound machines to send sound waves directly into the human body that create echoes which produce an image on the ultrasound screen. This image is used to diagnose various ailments such as tumors, progressive diseases, injuries, etc. The newest and most advanced ultrasound equipment is constantly being improved with technological engineering. Since ultrasound technology is ever changing, an Ultrasound Technician's career is an ongoing learning experience.
Ultrasound Technicians work directly with physicians and patients, but much of their work is on the ultrasound machine as well as writing reports on what they visualized during an examination which helps the doctor diagnose or rule out a patient's condition. Not only do Ultrasound Technicians get to work with the latest in healthcare technology, but they have a high earning potential and traveling flexibility. Currently, Ultrasound Technicians are in high demand and can work in hospitals, outpatient imaging facilities, long-term care facilities, and can even work as a traveling Ultrasound Technician. If you are someone who enjoys working with technology and helping patients one exam at a time, then a career as an Ultrasound Technician may be the perfect fit for you.
Do you Have a Social Personality?
Do you enjoy talking to and meeting several types of people from diverse backgrounds? You may be a person who loves to socialize and you can relate to people very easily. Certain healthcare careers require little to no patient interaction, while others will require you to spend much of their time with patients on a daily basis. The following careers would be a perfect fit for someone who loves talking with people and would not mind having patient interaction as a part of their daily routine. If you have a social personality, the following healthcare careers may be a great fit for you.
Medical Assistant
Certified Nurse Assistant
Dental Assistant
Physical Therapy Aide
Licensed Vocational Nurse
Every one of these healthcare careers is different, so we will briefly go over each one independently, so you have a general idea of what each career entails.
Medical Assistant
Medical Assistants work in clinics, hospitals, and private physician offices. A Medical Assistant's primary duties can include; administrative work, patient education, obtaining vitals, assisting the physician with procedures, and more. They will work directly with patients preparing them for their encounter with the doctor among other responsibilities.
Certified Nurse Assistant
A Certified Nurse Assistant can work in long-term care facilities, hospitals, and home health caring for the injured, disabled, or elderly. They will provide personal care and help with daily activities which may include; bathing, feeding, and assisting with ambulatory services. The bulk of a Certified Nurse Assistant's work will require direct patient interaction with occasional communication with the supervising nurse and family members of the patient.
Dental Assistant
A Dental Assistant can work in a private dental office assisting the dentist with treatments, surgeries, taking diagnostic x-rays, and more. They will work directly with patients providing them with health education, post-operative instructions, and may complete front office duties such as; billing, insurance verification, and appointment scheduling. A Dental Assistant has the capability to earn additional credentials as well as chose which dental specialty they would like to work in such as Endodontics, Orthodontics, Pedodontics, etc.
Physical Therapy Aide
A Physical Therapy Aide can work in sports clinics, hospitals, outpatient physical therapy clinics, and long-term care facilities. Physical Therapy Aides focus on preparing exam rooms for the Physical Therapist, document a patient's progress, and assist the Physical Therapist or Physical Therapy Assistant with additional duties. If you enjoy working directly with patients of all ages and backgrounds to help regain mobility due to an injury, accident, surgery, or help people with disabilities, then this career may be for you.
Licensed Vocational Nurse
A Licensed Vocational Nurse can work in private physician offices, hospitals, clinics, home health, and long-term care facilities. The majority of their work involves direct patient care, communicating with doctors, nurses, and other health professionals. A nurse's responsibilities may include; dispensing medications, providing care to immobile, injured, or recovering patients, supervising other nurses, and documenting a patient's ongoing condition. A career as a Licensed Vocational Nurse would be perfect for someone who has compassion for others, would like to work closely with patients on a daily basis, and someone who loves to help others.
Are You an Intellectual-Minded Person that Likes to Work Behind the Scenes?
Are you someone who wants to join the growing field of healthcare, but you prefer to work behind the scenes and not directly with patients? There are healthcare careers that do not involve direct patient care, but are just as essential. If this sounds like you, then a career as a Medical Biller and Coder or a career in Healthcare Management may be right for you.
Medical Biller and Coder
A Medical Biller and Coder works in an office environment working with physicians and other administrative healthcare professionals. The majority of their work will involve communicating with insurance companies, creating and submitting claims for reimbursement, and translating physician documentation and medical records into alphanumeric codes that are used for payment. Not only do Medical Biller and Coders learn how to bill insurance companies, but they have a comprehensive knowledge of medical terminology and anatomy and physiology. They utilize their knowledge in healthcare to locate the proper diagnosis and procedural codes to obtain the appropriate payment owed to a physician. Medical Biller and Coders can work in clinics, hospitals, long-term care facilities, insurance companies, and with a few years of experience, they can work from home.
Healthcare Management
If you are currently in the medical field and you would like to work in a management position or in the administrative department, then a career in Healthcare Management may be for you. Healthcare Management is needed in every facility that provides healthcare services. Healthcare Managers will work alongside other healthcare professionals and occasionally communicate with patients. Their purpose is to ensure that a facility is compliant and up-to-date with laws and regulations, recruit, train and supervise staff members, manage finances and monitor budgets, and improve the quality of healthcare patients receive. Healthcare Managers benefit from a high earning potential and career advancement. If you would like to work in Healthcare Management, attend an Associate's Degree Healthcare Management program. If you would like to further your career in Healthcare Management you can pursue a Bachelor's Degree and so on.
Would You Like to Start A Healthcare Career?
Healthcare Careers are diverse and give people the option to choose which type of healthcare career they would like to pursue. There is a career for every type of personality in the healthcare field. Most of these careers do not require any previous medical experience and some only require up to a year of school to complete. If you are interested in a healthcare career or if any of these healthcare careers sounds like it may be a perfect fit for you, then visit healthcarecareercollege.edu and speak with an admissions representative to get started today!
Is a Rewarding Healthcare Career Right for You? Get More Info…
If you're interested in learning more about careers in healthcare and exploring whether Healthcare Career College is right for you, fill out the form on this page to receive more information.
For immediate questions, call (562) 804-1239