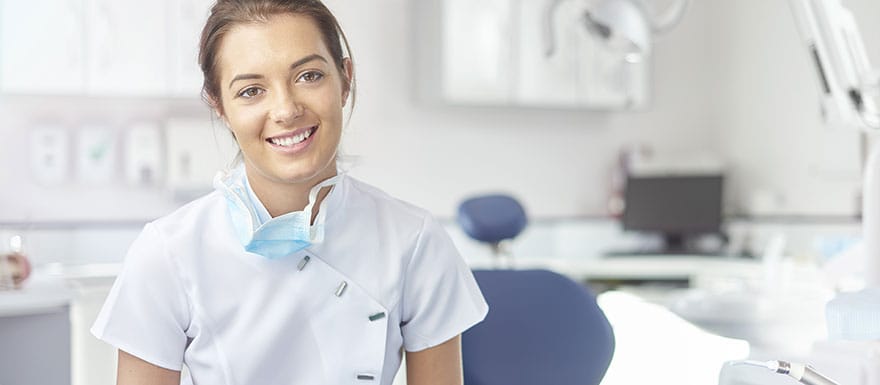 If you want to help people keep smiling, want a career that offers advancement, and would like the security of a career that is in demand, then dental assisting is for you! As a Dental Assistant you assist the dentist with chair side procedures, oral health education to patients, some administrative work, and much more!
The great thing about dental assisting is you don't need a degree. There are many advantages to becoming a Dental Assistant like most dental assisting programs only require a high school diploma and take less than a year to complete. There are endless opportunities for Dental Assistants even amid the coronavirus pandemic. If this interests you, then continue reading to learn about why you should become a Dental Assistant.
Making A Difference In Oral Health
Oral health is an important part of a person's physical and mental health. Oral hygiene is the basis for a person's oral health and Dental Assistants work closely with patients to educate them on proper oral hygiene. Dental Assistants can make a difference in a patient's life by the encounters, treatments, and overall care that a patient receives. Without the help of the Dental Assistant, the patient may not understand the importance of oral care and may lead to more serious complications down the line.
The care a Dental Assistant provides can determine how a patient perceives visiting the dentist. A pleasant Dental Assistant that shows he or she is invested in a patients oral health will change the way a patient looks at dentistry as a whole. Dental Assistants are the backbone of a dental practice and are highly respected by the dental team. Make a difference in oral health today by starting a career as a Dental Assistant.
Many Career Advancement Opportunities
Dental assisting doesn't stop at general dentistry. There are many opportunities to further your career besides becoming a dental hygienist or a dentist. There are various types of specialties in dentistry that you can aim to work in or maybe you'd like to add to your certifications in order to increase your earning potential. The options are limitless as a Dental Assistant. Not only can you work for a general dentist, but you can work with specialty dentists that can include;
Endodontists
Prosthodontists
Orthodontists
Pedodontists or Pediatric Dentists
Periodontists
Oral Pathologists or Oral Surgeons
You can work in a certain specialty depending on your preference. If you love to assist with root canals, consider working at an Endodontist office. If you would like to become an orthodontic assistant, then consider working in an Orthodontist office. Dentistry isn't a one stop shop and carries lucrative opportunities in every sector of it. If you love to work with children, consider working at a Pedodontist office. Periodontists work with patients who suffer from gum disease. If that is something that interests you, then consider working in that particular specialty. It's an amazing opportunity for someone who loves to work in the dental field, but would like to focus their work in a specific part of dentistry. If any of these specialties interest you, consider a career as a Dental Assistant today!
Dental Assistants Are In Demand!
In California, the number of Dental Assistants is expected to grow much faster than average growth rate for all occupations. Jobs for Dental Assistants are expected to increase by 16.5 percent, or 8,100 jobs between 2016 and 2026*. For LA County the percentage has increased to 18.2%**. This means that Dental Assistants are growing faster than ever before. Dental Assistants experience job security, career advancement, and great health benefits just to name a few. With as little as a high school diploma and completion of a dental assisting program that requires less than a year of commitment, you can experience all of these benefits as well!
Student testimonials have proven that success is attainable as a Dental Assistant even in today's job market. Watch our former Dental Assistant Student graduate, Richey, tell his success story. Richey was given an opportunity to work at different offices while still attending Healthcare Career College as a Dental Assistant student. His current focus is to go back to school and become a dental hygienist and hopefully become a dentist one day.
Becoming a Dental Assistant
Dental Assistants are integral parts of dentistry and only require a high school diploma. You can become a Dental Assistant in less than a year and join the many other Dental Assistants that have found success in this field. If you would like further information or if  this career sounds like something you are interested in, then visit our website and speak with one of our admissions representatives to get started today!
Is a Rewarding Career in Healthcare Right for You? Get More Info…
If you're interested in learning more about your financial aid options and exploring whether Healthcare Career College is right for you, fill out the form on this page to receive more information.
For immediate questions, call (562) 804-1239
*Source: https://www.labormarketinfo.edd.ca.gov/OccGuides/Detail.aspx?Soccode=319091&geography=0601000000
**Source: https://www.labormarketinfo.edd.ca.gov/data/employment-projections.html