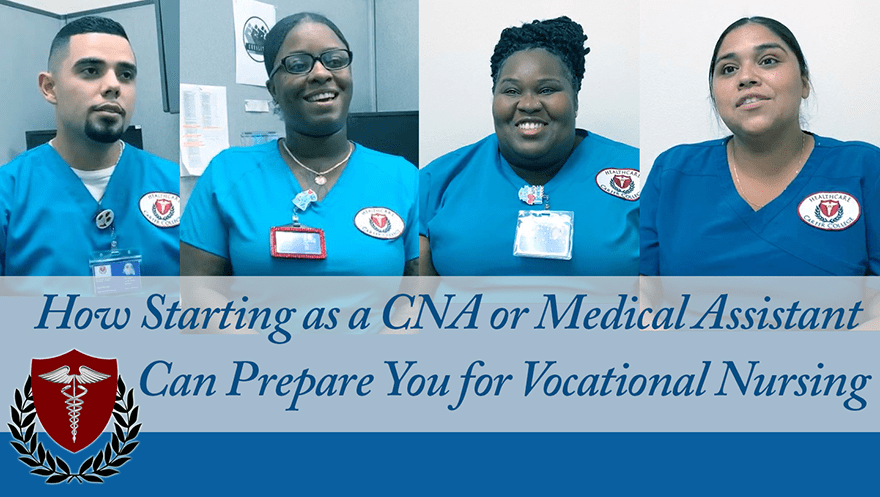 Are you interested in becoming a nurse, but not sure if you're ready for the demands of nursing school? You are not alone! Many successful nurses started in other healthcare related careers that have prepared them for success. Some of our nursing students came from similar career paths and have expressed how much it has helped them through nursing school.
Their previous medical experience prepared them by building a solid foundation in medical terminology, communication, and anatomy and physiology. Preparing yourself for the challenging yet rewarding career as a nurse will help you in being not only successful in nursing school, but feel confident when you're applying what you've learned in school to real life patients. Continue reading to learn about careers that will prepare you for nursing school.
Certified Nursing Assistant
Certified Nursing Assistants work with the geriatric community in long-term care facilities as well as hospitals helping sick and physically challenged patients. Nursing students who started as Certified Nursing Assistants say that this career has helped them understand disease processes, how to communicate with different types of patients, and have patience just to name a few. This career is a great foundation for nursing as it equips students with practical skills such as;
Written and Verbal Communication
Proper Body Mechanics
Anatomy and physiology
Record Keeping
Time management
Obtaining Vital Signs
Not only is this career a great start to nursing, but it is very attainable for almost anyone. Most Certified Nursing Assistant courses only take a few months to complete and can be an affordable option for those who may be financially challenged. Certified Nursing Assistants are in high demand and the need for this career is only expected to grow. Start your career as a Certified Nursing Assistant today!
Medical Assistant
Medical Assistants can work in doctor's offices, hospitals, or any other healthcare facility that cares for patients. Nursing students who started as Medical Assistants say that Medical Assisting has helped them understand medical terminology, reporting and documentation, and how to communicate with patients. If you'd like to work in a clinic or hospital setting and would like to have the option of working in the front or back office, this is an amazing career choice. Medical Assisting is a great foundation for nursing as it equips you with practical skills such as;
How to give Injections
Administrative Skills
Written and Verbal Communication
Medical Terminology
Anatomy and Physiology
Obtaining Vital Signs
Record Keeping
Time Management
Becoming a Medical Assistant can be a great way to get your foot in the door and gain experience as you prepare for a career in nursing. Not only is Medical Assisting a great career for anyone looking to become a nurse, but you can finish a Medical Assisting program in less than a year. Medical Assisting covers the basics of healthcare and is a very affordable option for students when compared to nursing as their first medical career. Medical Assistants are in high demand in all types of healthcare facilities. Start your career as a Medical Assistant today!
Nursing Student Testimonials
Starting a career as a Certified Nursing Assistant or a Medical Assistant is a great first step to becoming a nurse. Both careers prepare you in communication skills, medical terminology, and anatomy and physiology. Not only do they prepare you in theory and disease processes, but they provide you with the confidence to perform practical skills on real patients. Our current nursing students explain how their previous medical experience has contributed to their success in their nursing program. They've learned to never give up on their dreams and to continue your education in order to reach your goals.
If you're interested in a career that will prepare you for nursing school visit our website and speak with an admissions representative to get started today!
Is a Rewarding Career in Healthcare Right for You? Get More Info…
If you're interested in learning more about your financial aid options and exploring whether Healthcare Career College is right for you, fill out the form on this page to receive more information.
For immediate questions, call (562) 804-1239