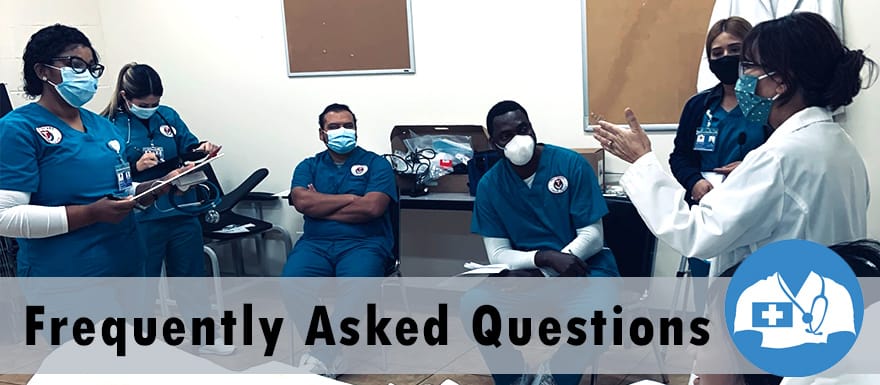 Becoming a Nurse is a task taken on by many looking for a well-paid and fulfilling career. Nurses handle everyday patient care while assisting the doctor with procedures, administering treatment plans, and monitoring patient health status. They are integral parts of the healthcare system and without them providers wouldn't be able to appropriately care for patients. If you are a nursing student, interested in becoming a Nurse, or are considering nursing as a potential career choice then you may have questions that we might have the answers to.
Since nursing is such a popular career choice in the healthcare industry for good reason, we've compiled a list of frequently asked questions about Vocational Nurses to help answer any lingering questions you might have. Not only do we include common questions asked about nursing, but we explain each in brief detail. If you would like to know about frequently asked questions about LVNs then continue reading this article.
What is an LVN?
LVN is an acronym for a Licensed Vocational Nurse. In summary, a Licensed Vocational Nurse is a licensed nurse that has taken the appropriate steps mandated by their state to sit for their licensing exam and met all requirements to obtain credentials that gives a nurse the authority to perform certain job functions related to nursing. State regulations and requirements vary from state to state. Check with your local state agency to find out more information on LVN license requirements.
What Do LVNs Do?
LVNs assist the doctor and other healthcare team members with procedures, following treatment plans, taking vital signs, documenting a patient's progress, administering medications, and caring for those who may have disabilities, suffered an injury, or have just undergone surgery. LVNs are essential members of the healthcare team and work together with other healthcare professionals to help patients return to optimal health.
Where Can LVNs Work?
LVNs can work in a number of environments including home health, hospitals, private physicians' offices, long-term care facilities, and clinics. LVNs enjoy flexible career mobility, meaning they have the option to work in various types of facilities that may specialize in a particular sector of healthcare or focus on a certain category of the community. LVNs can work with children in Pediatrics, mental health facilities, specialty practices such as Cardiology, Orthopedics, Neurology, etc. As a LVN you can choose the type of facility you work at which nurses can appreciate.
How Does it Take to Become an LVN?
Generally, Vocational Nursing programs take around 11 months to complete. This may vary slightly depending on the type of program you enroll in and whether you are a part-time or full-time student. An 11-month Vocational Nursing program is an intense career training program where they may have limited capacity leaving many aspiring nursing students placed on a waiting list. Competition across nursing programs can be intimidating, but with proper preparation students are very likely to secure a spot at their local vocational school that offers a nursing program.
Do You Need a Degree to Become an LVN?
No, LVNs are not required to have a degree to become a Nurse. Since an LVN is a Licensed Vocational Nurse, the only requirement to become an LVN is to complete an accredited nursing program and pass a licensing examination in their state. According to Practical Nursing, Best LVN Programs in California, in the state of California, applicants are required to complete a total of 1,530 hours at vocational, trade, or private LVN school approved by the California Nursing Board. Check with your state nursing board for more information on additional application requirements.
Are LVNs Nurses?
Yes. They are Licensed Vocational Nurses, meaning they have completed all required hours of education and training to become a Nurse. Additionally, they have passed a licensing examination which allows them to work as a nurse in their state. They hold the title of a Nurse in a healthcare setting and perform job responsibilities that only a licensed nurse would be authorized to do. As a side note, pursuing a higher education in nursing may be beneficial if your goal is to become a registered nurse in the future.
What Classes Will I Take in Nursing School?
People are always getting sick, needing assistance with daily living and rehabilitation services, which means there will always be a demand for Nurses in the healthcare industry. The intense training nurses go through to be competent and well-equipped to handle almost any health emergency will include courses that directly relate to direct patient care. Additionally, nursing students will be required to work a number of hours in a real-life healthcare facility applying their training and education to real patients. Generally, nursing students can expect to take classes such as:
Anatomy and Physiology
CPR or Cardiopulmonary resuscitation certification
Pharmacology
Pediatrics
Maternity
Geriatrics
Patient Care
Nutrition
Medical Terminology
Mental Health
And more!
References
https://www.practicalnursing.org/lvn-programs/california
Is a Rewarding Healthcare Career Right for You? Get More Info…
If you're interested in learning more about careers in healthcare and exploring whether Healthcare Career College is right for you, fill out the form on this page to receive more information.
For immediate questions, call (562) 804-1239