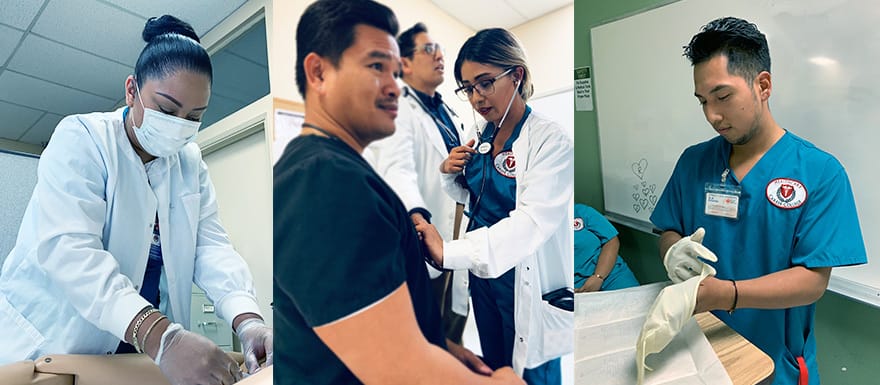 Have you ever wanted to step into the shoes of a nursing student and experience what it is like attending a licensed vocational nursing program? Whether you are a current nursing student or someone who may be thinking about attending a nursing program, this article will be a useful tool. You will get a look at what Licensed Vocational Nursing students do, class schedules, and what is next after graduation.
Healthcare is one of the largest employment sectors in the world. Nurses are in high demand in all types of healthcare facilities that range from; long-term care, home health, hospitals, and travel nursing. This article is meant to help you prepare for your journey to becoming a nurse. If you would like to know What it is Like Attending a Licensed Vocational Nursing Program then continue reading.
Class Schedule
The responsibilities of a nurse do not come lightly. They are in fast-paced environments where they may need to think on their feet and make decisions with a sense of urgency at any moment. This career path requires intensive training and education, so nurses are equipped with the knowledge and practical skills needed to complete their job duties. Due to this, class schedules can be demanding and time consuming. Each school is different in how they structure their class schedules, but you can expect to dedicate most of your time during the day to in-class lectures and some of your weekends to practicing practical skills at clinicals.
For example; Sarah attends class Monday through Friday from 8 A.M. to 1 P.M. and every other Saturday from 8 A.M. to 4 P.M. When debating about if you would like to attend a Licensed Vocational Nursing program, consider the time commitment you are making. Additionally, all schedule limitations your program may have such as; flexibility, schedule options to choose from, or penalties for missing class.
Clinicals
Clinicals include students reporting to a healthcare facility where they assist and shadow other veteran nurses while learning new skills. The lectures students attend during the week explain why they perform these duties, and clinicals allows students to practice them on real patients. Nursing students shadow or follow veteran nurses around the facility helping administer medications, helping patients with Activities of Daily Living or ADLs, and provide treatment for any health conditions patients may be experiencing.
Clinicals are mandatory for nurses and requires many hours, so they are confident when they work as a nurse after graduation. Many times, clinicals are where students are offered their first job opportunity. Nursing students should treat clinicals like a working interview. Although they are students and they are there to learn, you never know who is watching with an intention to hire you eventually.
NCLEX
According to UWorld Nursing, NCLEX stands for National Council Licensure Examination. It is a licensure exam that every state regulatory board uses to test knowledge, skills, and abilities essential to the safe and effective practice of entry-level nursing. The exam is required for initial recognition as a nurse in the United States. Passing the NCLEX as a Licensed Vocational Nursing student allows you to work as a nurse in your specific state. Eligibility is determined by the nursing regulatory body or NRB.
You can apply to take the NCLEX by obtaining an Authorization to Test or ATT from NRB and paying all fees for the NCLEX with Pearson VUE. Once eligibility is granted you can now schedule your testing date. It is especially important that students study and take the appropriate time to properly prepare since this license if required to work. Each state requirements vary so check with your local state agencies to understand how you can sit for the NCLEX.
Graduation
After you have finished your Licensed Vocational Nursing program and have passed your NCLEX, you are ready to start job searching. Being a newly graduated Licensed Vocational Nurse is appealing to potential employers because you are a blank slate where they can build your skills from the ground up. Do not feel discouraged if you are rejected for any reason. There is such high demand for nurses that job openings become available all the time.
Working as a nurse allows you to choose the type of facility you would like to work at. Nurses can work in a physician's office, a hospital, or specialty clinic. Specialties can include; Pediatrics, Internal Medicine, and Cardiology just to name a few. Some students are hired right out of graduation at their clinical site. A career as a nurse is progressive and can lead to many other opportunities in the future.
Are you Thinking About Becoming a Licensed Vocational Nurse?
Are you wondering what it would be like to become a Licensed Vocational Nurse? Becoming a Licensed Vocational Nurse is a fantastic opportunity to make a difference in your local community's health and earn a living. Attending a Licensed Vocational Nursing program can seem like a daunting task, but after reading this article you know what to expect and how to prepare ahead of time. Before enrolling into a Licensed Vocational Nursing program, understand the time commitment required, intensive nature of the curriculum, and your state requirements to sit for the NCLEX. Once you have made the conscious decision to attend a Licensed Vocational Nursing program, you can prepare to become a successful nursing student. If you are interested in attending a Licensed Vocational Nursing program, visit healthcarecareercollege.edu speak with an admissions representative to get started today!
Is a Rewarding Career as a Licensed Vocational Nurse Right for You? Get More Info…
If you're interested in learning more about a career as a Licensed Vocational Nurse and exploring whether Healthcare Career College is right for you, fill out the form on this page to receive more information.
For immediate questions, call (562) 804-1239