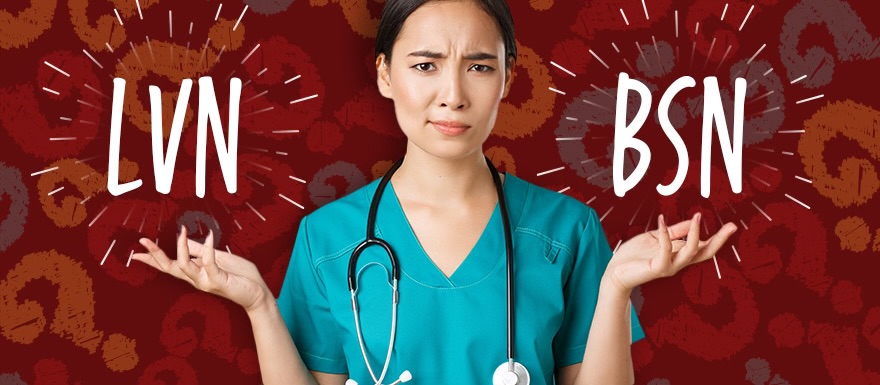 When observing the difference between an LVN vs. a BSN certification, the comparison comes down to time, cost, aspirations, the scope of practice, and experience. Aspiring LVNs should complete an approved training course, as little as one year to complete while BSNs normally take four years to complete like most bachelor's degrees and may have more opportunities after graduation. While many of the tasks and responsibilities are equal to one other such as basic skills, work environment, simple procedures, and responsibilities, there are many differences between an LVN and a BSN. While peripheral to one another, the characteristics in the education necessities, daily responsibilities, and growth capacity of LVNs and BSNs are worth pursuing. So how do LVNs and BSNs differ?
What Do LVNs Do?
LVNs (Licensed Vocational Nurse), also knowns as LPNs (Licensed Practical Nurse) in other states, work in a wide range of professional settings, such as hospitals, clinics, extended care facilities, and private practices. Depending on responsibilities, LVNs monitor patients' vital signs, report vital signs to the RN or doctor, administer injections, make a patient feel comfortable by bathing and dressing, help insert catheters, change bandages, monitor blood transfusions, and provide all the necessary care for patients. LVNs can typically work along these career paths:
Physicians' Offices
Community Health Clinics
Public Schools
Mental Health Facilities
Residential Care
Traveling Nurse
Home Healthcare
Health Clinics
Military
Like most jobs in healthcare, opportunities for LVNs will likely climb in the coming years, with 9% growth between 2020 and 2030 projected by the U.S. Bureau of Labor Statistics (BLS).
What Do BSNs Do?
Graduates with a Bachelor of Science in Nursing (BSN) can work in professional environments such as hospitals, clinics, and physicians' offices. Beyond bedside nursing, daily tasks, responsibility, and stability, earning a Bachelor of Science in Nursing (BSN) can increase job opportunities and leadership roles. Having a BSN degree can be enticing for you can easily build upon this education and pursue advanced degrees and you can be eligible for better benefits and salaries and open an array of possibilities to pursue diverse careers. BSNs can take managerial, leadership, and practitioner roles such as:
Case Management
Nurse Educator
Health Policy Nurse
Nurse Recruiter
Nurse Informaticist
Forensic Nurse
Clinical Research Nurse
Nurse Health Coach
Just like LVNs, employment of registered nurses is projected to grow 9% from 2020 to 2030 according to the U.S. Bureau of Labor Statistics (BLS).
Education Requirements
Since nursing requires a great amount of experience working with patients, both programs feature a classroom, lab component, and clinical work that requires skills and knowledge to be successful in the nursing career. Courses cover management, medical ethics, healthcare systems, and physiology. Generally, the coursework, timelines, and demands of BSN students are more comprehensive than those who pursue an LVN certification.
LVN course studies are the introduction to anatomy, physiology, nutrition, and pharmacology. Students will also learn basic and essential concepts of surgical nursing care as advanced classes involve clinical work that covers pediatrics, obstetrics, mental health, and more. Classes are divided into modules until the Nursing License Preparation. The Nursing License Preparation is to prepare for the program's final examination. The students will receive a complete recap of the program. LVNs have more limited responsibilities in their organizations, so they often complete academic programs of 12 to 18 months that address similar topics as in a BSN with a more limited scope.
A BSN is a four-year degree that requires students to complete Math and English as core undergraduate disciplines, as well as a foundational curriculum in nursing. BSN nursing courses often include anatomy, biology, physiology, chemistry, microbiology, and medical ethics. Students may adjust courses to suit their particular interests in the future and choose a specialization, such as psychiatric mental health nursing, gerontology, pain management nursing, informatics nursing, public health, perioperative nursing, or critical care. Both LVNs and BSNs are required to complete the National Council Licensure Examination (NCLEX). The NCLEX is the national test required for licensing and practice as a nurse in the United States. The educational requirements for these two degrees will often affect program length and cost.
Growth Potential
Many LVNs find earning a BSN to be worthwhile since you can boost your income and pursue more opportunities. BSNs typically earn higher salaries than LVNs due to their expansive education and experience. Based on the latest statistics from the BLS (Bureau of Labor Statistics), the median salary of an LVN as of current is $48,820 annually, while a BSN or RN's salary is currently $75,330. Additionally, BSNs have more opportunities to advance their education and expand their careers within the healthcare system.
Is a Rewarding Career as an LVN Right for You? Get More Info…
If you're interested in learning more about careers as an LVN and exploring whether Healthcare Career College is right for you, fill out the form on this page to receive more information.
For immediate questions, call (562) 804-1239
SOURCES: