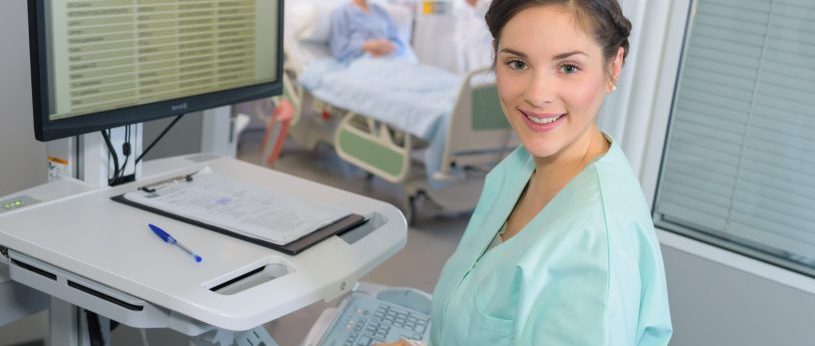 Are you thinking about becoming a Medical Assistant, but aren't sure of the benefits the career has to offer? Whether the idea of working in the medical field has been a long-time dream placed on the back burner or a new interest, a Medical Assistant career can be a great place to get your start in the healthcare industry.
Continue reading to learn about the top 5 reasons to become a Medical Assistant.
1. Quick Training to Start Working Sooner
Many Medical Assistant programs can be completed in as little as 12 months. As a Medical Assistant, you can gain your diploma in a quarter of the time of a 4-year college and have the specific expertise to start working in a clinic, hospital, or doctor's office.
Healthcare Career College's Medical Assistant program can be completed in 11 months*, allowing for fast entry into the workforce.
2. Job Growth
According to the U.S. Bureau of Labor Statistics, employment of Medical Assistants is projected to grow 18% over the next 8 years, much faster than the average for all occupations**. The growth of the aging baby-boom population will continue to increase the demand for preventive medical services. As a result, more Medical Assistants will be needed to perform routine administrative and clinical duties.
If you're planning on becoming a Medical Assistant in California, you're in luck. California is the state with the highest employment level of Medical Assistants***.
3. Personal Fulfillment
Your career as a Medical Assistant will be all about helping others. Medical Assistants work directly with patients and empathize with them during exams and procedures. They will also help their fellow physicians and colleagues.
Patients look to Medical Assistants to help them understand the tests and procedures they are receiving and to ease their fears as they face them. Working as a Medical Assistant takes a lot of heart and dedication and is likely to be a career in which you will feel proud of the work you do each day.
4. Specialization
Upon graduation from a Medical Assistant program, you may have the option to choose a specialty within the industry. To begin working in a certain specialization, you may need to acquire additional certifications. There are a variety of specialization options, including:
Geriatrics
Cardiology
Obstetrics and Gynecology
Endocrinology
Oncology
And more!
At Healthcare Career College, our Medical Assistant program in Paramount, CA will help you develop the skills needed in both the administrative and clinical aspects of a career in medical assisting. You'll be fully prepared to provide high-quality customer service and patient care.
5. Opportunity for Advancement
Becoming a Medical Assistant can be the perfect way for newcomers to begin their journeys into the healthcare industry. Once you have completed Medical Assistant school, you'll have plenty of opportunities to advance by pursuing additional training.
A Medical Assisting position can be a great way to determine how much you enjoy working with patients and potentially propel you to earn a Nursing degree or work toward becoming an Office Manager in a medical setting.
Is a Rewarding Career as a Medical Assistant Right for You? Get More Info…
If you're interested in learning more about careers as a Medical Assistant and exploring whether Healthcare Career College is right for you, fill out the form on this page to receive more information.
For immediate questions, call (562) 804-1239
*Program length when completed in normal time.
SOURCES:
**https://www.bls.gov/ooh/healthcare/medical-assistants.htm#tab-6