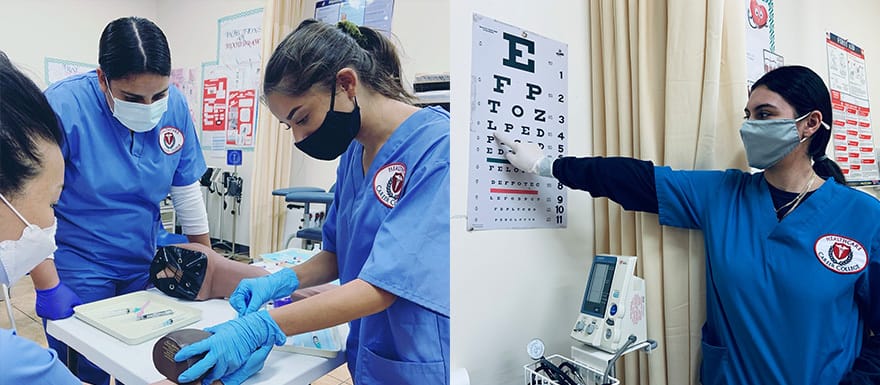 A Medical Assistant essentially runs the front office assisting with scheduling appointments, taking vital signs, documenting patient and physician information, and helping the doctor with procedures. Medical Assisting is a rewarding and meaningful career where you can make a difference in a patient's office visit experience. Not to mention Medical Assistants keep the office running smoothly and efficiently aiding to a medical office's success. A career as a Medical Assistant may be your ultimate goal or maybe this is a stepping stone where you may choose to further your education. Medical Assisting offers a variety of career paths and benefits, which makes this career such a lucrative option for students. If you would like to learn 5 Fun Facts About Medical Assistants then continue reading.
1. Medical Assisting is a Fast-Growing Career
According to the Bureau of Labor Statistics, the job outlook for Medical Assistants is estimated to increase by 19% which is much faster than the average occupation. Increased amounts of medical clinics, physicians' offices, hospitals, and other healthcare facilities has grown the demand for medical support workers such as; medical assistants. There is an abundance of job opportunities in this career field and many Medical Assistants move onto higher positions in their medical profession. Additionally, Medical Assistants gain essential skills and education that can be rolled over to another medical career in the future.
2. No Degree is Required to Become a Medical Assistant
You do not need a degree to become a Medical Assistant, but there are Medical Assistant            Programs that are Associate Degree awarding. A degree is not required to work as a Medical Assistant, certification is highly encouraged. The American Association of Medical Assistants or AAMA, offers a certification exam for Medical Assistants to earn their Certified Medical Assistant or CMA credentials. If you attend an Accredited Medical Assistant Program, you are eligible to sit for the CMA certification exam. If you would like more information about Medical Assistant Credentialing you can visit https://www.aama-ntl.org.
3. You Can Become a Medical Assistant in Under a Year
Many Medical Assistant Programs only take up to a year of school to complete. This can vary depending on how the curriculum is structured at your school for example; Associate Degree Medical Assisting programs may take up to two years to complete, although this is not required to become or work as a Medical Assistant. This career is great for anyone looking to start a new career in a short amount of time when compared to other medical professions. The length of time you will be in school will depend on the school you choose to attend. There are accelerated, advanced, and traditional Medical Assistant Programs. Choose the program that best fits your schedule and lifestyle to ensure you have a successful school experience and reach your career goals.
4. Medical Assistants Can Work Different Medical Specialties
Medical Assistants can work in hospitals, physician offices, outpatient care facilities, and more. Medical Assistants aren't limited to only working in family medicine. Medical Assistants can work in every specialty of healthcare which may include, but is not limited to;
Orthopedics
Pediatrics
Neurology
Radiology
Obstetrics/Gynecology
Ophthalmology
Urology
Psychiatry
If you are someone who would like to work in various types of healthcare facilities, then a career as a Medical Assistant is a great option. Despite the medical facility you are employed at, your job description will generally be the same.
5. Career Advancement in Medical Assisting is Common
Career advancement for Medical Assistants is very common. Many Medical Assistants move on to furthering their education by earning additional credentialing, gaining experience, or going back to school to earn a degree or attend a certificate program. There are similar careers that Medical Assistants can advance to which may include, but is not limited to;
Healthcare Management
Medical Biller and Coder
Surgical Technologist
Licensed Vocational Nurse
Registered Nurse
These are possible career paths Medical Assistants can advance to if that is their goal. Some Medical Assistants choose to gain additional experience in their current position, but specialize in a particular sector of healthcare such as a medical specialty. Medical Assisting is so versatile that the career advancement opportunities are endless.
Are You Interested in a Career as a Medical Assistant?
After learning 5 fun facts about Medical Assisting, it is apparent that this career can be very rewarding both short and long-term. Medical Assistants enjoy job security, job satisfaction, professional growth, and personal fulfillment. You can earn a Certified Medical Assistant certification and increase your earning potential, additionally, earning a certificate expands job opportunities. Medical Assistants can progress in their career by earning additional credentials, gain career experience, or continue forward by going back to school. Medical Assisting can be completed in a short amount of time which is great for individuals wanting to hit the ground running in a new career. If you are interested in becoming a Medical Assistant then visit healthcarecareercollege.edu and speak with an admissions representative to get started today!
Is a Rewarding Career as a Medical Assistant Right for You? Get More Info…
If you're interested in learning more about a career as a Medical Assistant and exploring whether Healthcare Career College is right for you, on this page to receive more information.
For immediate questions, call (562) 804-1239