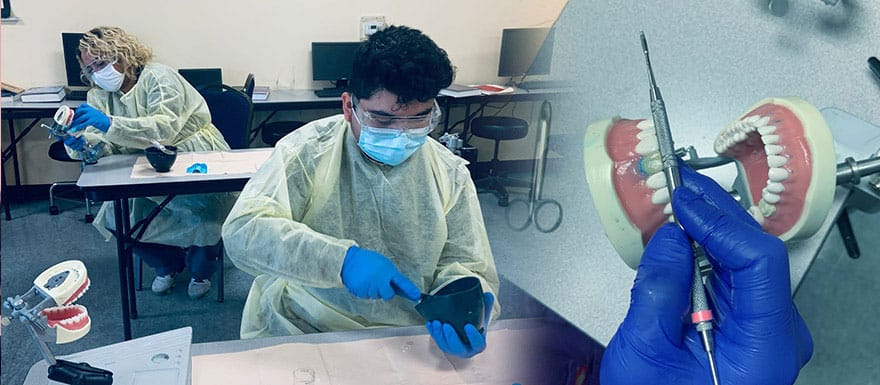 Great Job Security
Dental Assisting is a great career path that offers excellent job security. Oral health is an essential element to overall physical health and has become a large part of preventative care. As new technological advances evolve the dental field, the need for dental assistants increases along with the training needed to keep up with new treatments and equipment. A newly graduated student will find that finding work as a Dental Assistant is quite unique in the way that Dental Assistant jobs are readily available. They enjoy job security because of the skills, credentials, and training they have obtained through a Dental Assisting program and on-the-job experience.
When a Dental Assistant obtains their license, certification, or diploma, depending on their state's laws and regulations, they can work over state lines expanding their career opportunities. There are minimal restrictions for a Dental Assistant to work and many employers are willing to train newly graduated students. Even during the COVID-19 pandemic, the demand for Dental Assistants has increased and there is no sign that they will have trouble finding work in the future.
Career Advancement Opportunities
Dental Assisting is not a one stop shop. Through on-the-job experience, additional education or training, and expanding one's credentials, a Dental Assistant can advance their career several ways for example; a Dental Assistant can go back to school to become a Dental Hygienist or a Dentist. The dental field also offers administrative positions such as an office manager or front office staff member. There is always an opportunity for Dental Assistants to further their career in the dental field. The more experience a Dental Assistant has, the better the career opportunities there are. Similar to other healthcare careers, Dental Assistants have the capability to increase their salary potential with hard work and perseverance. Learning new skills, having a strong work ethic, staying current with the latest in advancements and changes in the dental field can help a Dental Assistant stand out among the others.
Requires Under a Year of School
Generally Dental Assistant programs take up to a year to complete. This means that you can start a great healthcare career in a short period of time. Whether you previously worked in retail, customer service, or logistics, you can pursue a career as a Dental Assistant. Students who may not have a high school diploma are not exempt from attending school, but they may need to complete a GED class during while attending a Dental Assistant program. Dental Assisting programs vary in length depending on how they are structured and what certifications you will need to obtain. If you would like how to know how long a Dental Assistant program is, check their school website or you can call and ask an admissions representative for further information.
You Can Work in Various Dental Specialties
There are several dental specialties Dental Assistants can choose to specialize or work in. Certain dental specialties offer a higher earning potential and may require additional certification. Each dental specialty will focus on a particular type of dentistry. Common dental specialties include, but are not limited to:
Endodontics
Orthodontics
Pedodontics
Oral Surgery
Prosthodontics
A Dental Assistant can choose which dental specialty they would like to work or specialize in according to their preference for example; if you would like to work with children, you can work in Pedodontics. If you enjoy transforming a person's smile, then Prosthodontics may be a specialty worth pursuing. Find out what you enjoy while attending a Dental Assistant program and decide if you would like to specialize in a particular part of the dental field.
Dental Assistants Are in High Demand!
According to the Bureau of Labor Statistics, the job outlook for Dental Assistants is estimated to increase by 7% which is much faster than average*. This increase in demand will create around 23,400 additional jobs within the next ten years*. The demand for Dental Assistants is due aging number of elderlies needing dental services, dental health becoming more of a priority for overall health to the general public, and the advancement in equipment and technology in the dental field. A good indication that jobs are hiring would be to use an internet job search engine such as; indeed, and see how the job market is near you. Additionally, during a Dental Assistant externship, students may get hired directly after or even before graduation.
Want to Become a Dental Assistant?
Becoming a Dental Assistant can be as easy as a phone call away. It does not require previous experience and can have many attractive benefits such as; job security, career advancement, and the potential to specialize in different areas of the dental field. Dental Assisting has multiple avenues a person can chose from making it a very flexible and unique career. You will lean everything about oral health, develop communication and practical skills, and earn your certification that is nationally recognized. If this sounds like the career for you, then visit healthcarecareercollege.edu and speak with an admissions representative to get started today!
Is a Rewarding Career as a Dental Assistant Right for You? Get More Info…
If you're interested in learning more about a career as a Dental Assistant and exploring whether Healthcare Career College is right for you, fill out the form on this page to receive more information.
For immediate questions, call (562) 804-1239
*Source: https://www.bls.gov/ooh/healthcare/dental-assistants.htm#tab-1