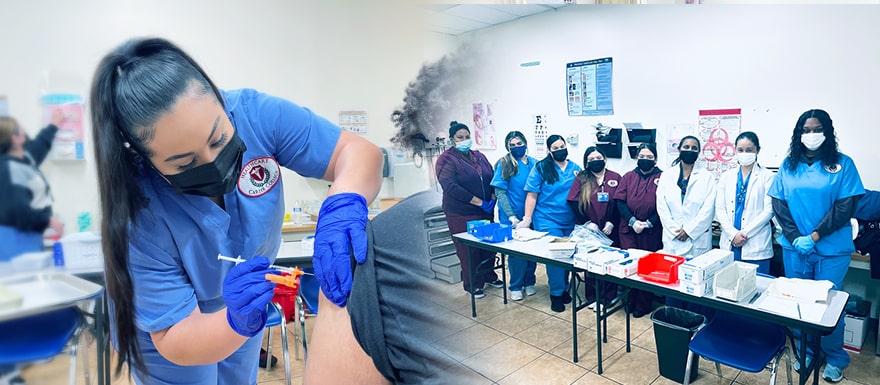 On January 7, 2022, Healthcare Career College partnered with Dr. Dipti Doshi, a board-certified rheumatologist of the American Board of Rheumatology, to hold a FREE COVID-19 Vaccination Event offering first and second doses as well as booster shots at our campus open to the public. Our FREE COVID-19 Vaccination Event sign was up as families and friends gathered in line at 8:00 a.m., anticipating on receiving their vaccination since the concern about the new Omicron variant of SARS-CoV-2, the coronavirus that causes COVID-19. Our staff and volunteering students guided the participants and their families to help prepare them before taking their vaccines.
Our on-campus clinic offered the following vaccines:
Pfizer for ages 12 and up
Moderna for ages 18 and up
Booster Vaccine
Mr. Cruz. Juarez, our Career Services Advisor with a background in Medical Assisting, and our team of advanced Medical Assistant students collected the patients' vaccine cards before administering the vaccines while practicing safe protocols by social distancing and allowing a few patients at a time while distributing the vaccines smoothly. Each participant was escorted to the next room after receiving their vaccines and were observed for a total of 15 minutes for any side effects such as dizziness that could hinder them from performing and resuming activities such as driving. Just like any other vaccine, the most common side effects are mild and may include arm soreness, redness, swelling, fatigue, headache, chills, nausea, mild fever or joint/muscle aches.
'I took the vaccine because I just want everyone in my family to be safe and not sick. I know a lot is happening in the world and a lot of people lost families,' -Ashley, Medical Assistant student.
'The reason why I got vaccinated is because I am in the health industry. I am a caregiver so I really care for my patients. Also for my family, I want them all to be protected,' -Vanessa, Medical Assistant student.
COVID-19 is a global pandemic and it is very crucial to receive the COVID-19 vaccination at this point especially those who are immunocompromised. The reason is for your health, safety, and to protect your loved ones and your community. The vaccine will help fight against hospitalizations and deaths from the virus even after becoming exposed.
'The booster shot is very important for everyone to take after taking your first dose and second dose. Your body has already started developing immunity. After some time, that immunity is not sufficient to fight against the new COVID-19 strain. You should always take the booster dose to get your immunity much faster so that you can fight against the infection in case you come across it. That will also make you safer and healthier,' -Dr. Dipti Doshi.
According to our Medical Assistant student volunteer Ashley, the highlight of the event was we received great feedback from the participants! Some of them were very excited while some were terrified at first. But as soon as they received their vaccines, they did not feel their shots and was surprised at how fast it was. 'Wow, you guys are amazing!' one patient said.
Prior to our COVID-19 Vaccination Event on January 7th, Healthcare Career College vaccinated 60 patients on December 15 and 16, 2021, while vaccinating 408 patients last week! The event was a significant turnout! With the help of Dr. Dipti Doshi, and our wonderful staff and students, we were able to vaccinate our community successfully to make everyone's lives safer and healthier.
*Please come join us on our next COVID-19 Vaccination Event on Friday, January 14th from 8:30 a.m. – 5:00 p.m. at Healthcare Career College on 8527 Alondra Blvd., Suite #128. Paramount, CA 90723