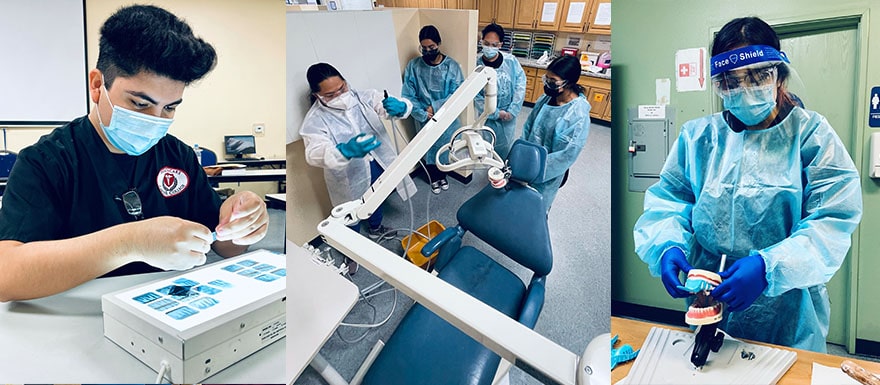 Advance Your Career in Dental Assisting!
Are you studying to become a Dental Assistant or are you currently working as a Dental Assistant? As a Dental Assistant, there are many ways to advance your career. Some find their passion for dentistry through work experience or training, but what is your passion? Do you enjoy teaching? Or maybe you would like to eventually become a Dentist? No matter which career pathway you choose, it does not have to stop at Dental Assisting.
Dental Assisting can be a stepping stone, but also a wonderful way to start a rewarding career in the dental field in a short amount of time. Many Dental Assistants pursue higher education, additional training, or certifications to progress their careers to the next step. While working as a Dental Assistant you may find that you love certain aspects of your career more than others. Having a passion for what you do will help someone focus their energy on exactly where they see themselves in the future and Dental Assisting is just the beginning.
Where Do You Want to Grow?
Whether you are a new graduate or a seasoned veteran, finding a company to grow within is key. Building that rapport will lead you to better opportunities and ultimately you will reach your career goals. Many companies offer tuition assistance, advancement opportunities, and additional training. Gaining work experience throughout your career not only looks good on your resume, but builds your practical and administrative skills.
Grasping every opportunity and investing your time wisely will save you time and money when trying to advance your career as a Dental Assistant. If you are a new graduate, find a place to start your career and gain experience. Having previous experience will open the door to more opportunities. Additionally, there are many ways a Dental Assistant can eventually work their way up to a management position. Building a good relationship with employers is also a great resource if you need references for future employers. Here are a few ways you can advance your career as a Dental Assistant.
Expand Your Skills as a Dental Assistant
CDA (Certified Dental Assistant): if you have two to four years of Dental Assisting National Board (DANB) approved work experience or a diploma, degree, or certification from an accredited Dental Assistant Program, you are eligible to take the DANB Certified Dental Assistant exam. This certification exam, if taken and passed, allows a Dental Assistant to work in all fifty states in Northern America. This opens the door to opportunities across state lines and would give someone the choice to relocate if they choose. Additionally, a CDA earns more than a Dental Assistant who is not certified.
EFDA (Expanded Function Dental Assistant): an Expanded Function Dental Assistant may go by other names depending on the state you live in. An EFDA may be called an; LDA (Licensed Dental Assistant), RDA (Registered Dental Assistant), RDAEF (Registered Dental Assistant with Expanded Functions), or another title. Becoming an EFDA allows a Dental Assistant to perform added functions chairside. This gives a Dental Assistant professional recognition and opens the door to career growth opportunities. You can become an EFDA by receiving obtaining training and taking a certification exam.
DLT (Dental Laboratory Technician): if you're someone who would like to work in the laboratory behind the scenes creating corrective devices for the replacement of natural teeth, then becoming a Dental Laboratory Technician would be a great fit. They work with technology and science where they manufacture dental prostheses for patients according to their prescription from the Dentist. This career path would be perfect for someone who enjoys working with their hands, working with technology, and even a bit of artistry. You can become a DLT through a post-secondary certificate program where you can take an exam to become a Certified Dental Technician (CDT). This is not needed to work in the state of California but is highly encouraged.
Dental Hygienist: obtain at minimum an Associate's Degree from an accredited Dental Hygienist Program through the Commission on Dental Accreditation (CODA). These programs can be between two to four years. A Dental Hygienist oversees a patient's preventative care and works closely with the Dentist. If you would like to expand your clinical skills as a Dental Assistant and increase your earning potential, then a career as a Dental Hygienist would be a great possibility.
Dentist: attend a dental school accredited by the Commission on Dental Accreditation (CODA) which may take up to four years to complete. Additional years in school may be needed for dental specialties. There are usually prerequisites that are required prior to enrolling in a dental school which you can complete through courses at your local community college. If you have a passion for dentistry and would like to become a dentist then pursuing higher education would be the career pathway for you.
More Ways to Advance Your Career as a Dental Assistant
Office Manager: If you are currently working in a dental office or facility, and you would like to work in a management position, then a career as an office manager would be an excellent choice. The office manager oversees the day-to-day operations of a dental office by ensuring they are abiding by all local and state regulations, budget company finances, manage staff, and more. This is an entry-level career and does not necessarily require a higher degree, although it may be helpful to get your foot in the door.
Dental Assistant Instructor: if you have at least 2 years of experience as a Dental Assistant you can become Dental Assistant Instructor. Job duties as a Dental Assistant instructor may include; teaching students practical skills and conducting class lectures. You will work with several types of people from diverse backgrounds. Check with your local technical college to see if there are other requirements to be employed as an educator at their school. If you love to learn every day and if teaching is your calling, then a career as a Dental Assistant Instructor may be the perfect fit for you.
Public Speaker: if you enjoy public speaking where you attend several types of events dedicated to dentistry then you may want to become a public speaker. After gaining some experience in the dental field you may want to do more with your career. You might want to share the knowledge you've learned throughout your career with others. Additionally, if you enjoy speaking with distinct members of the dental community you can really blossom in this career. This is a fantastic opportunity to become a bigger part of dentistry and advance your career through public speaking.
Train to Become a Dental Assistant
If you are ready to start a rewarding career as a Dental Assistant today, or you would like more information about the Dental Assisting Program here at Healthcare Career College, then click here. We are here to help you reach your career goals!
Is a Rewarding Career as a Dental Assistant Right for You? Get More Info…
If you're interested in learning more about careers as a Dental Assistant and exploring whether Healthcare Career College is right for you, fill out the form on this page to receive more information.
For immediate questions, call (562) 804-1239
Sources: