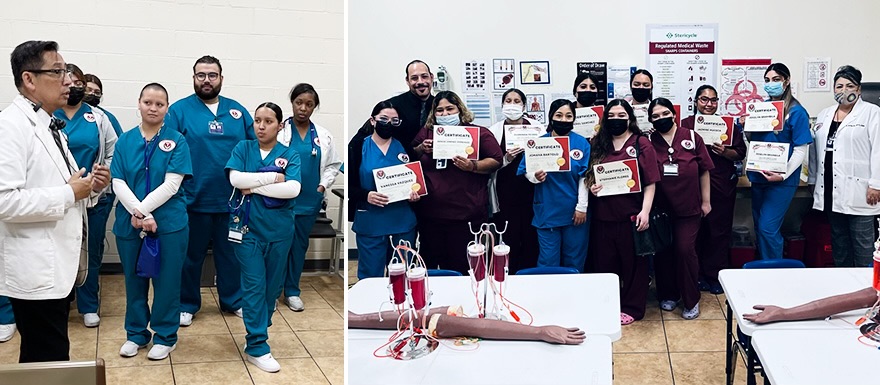 On Thursday, March 24, 2022, Healthcare Career College and Paramount Chamber of Commerce hosted the Healthcare Heroes Lunch event on campus. Over twenty-eight employers were invited to participate in the event to promote their business and build an alliance with one another, as well as invite students for their recognition in participating in our COVID-19 Vaccination Event and Care Harbor on March 4-6, 2022.
Our Chief of Operations Officer, Michelle Grover, opened the event by welcoming our healthcare heroes, recognizing and acknowledging all their efforts for their hospitality and contribution to making our communities better and healthier. Michelle stated that our students shared testimonies because of their personal experience of the exceptional quality of medical services that were rendered by our employers and their staff members.
Our Campus President, Amita Garg, proceeded by announcing that remarkable things commence when collaborating with like-minded people with the same value, as our school is highly associated with the Paramount Chamber of Commerce, collaborating and building communities together. Healthcare Career College was founded in 1990 by Amita's parents Mr. Ashok and Mrs. Indu Garg as Infotech Career College.
Amita continues the legacy of the college by developing the programs at Healthcare Career College to serve the needs of students yearning for education to fulfill their dreams of becoming healthcare heroes. The attending employers took a survey to collect what the current industry trends are, and to prepare our students to serve and grow our employer's organizations.
After the brief introductions, our employers and students had the opportunity to introduce themselves, tell us where they work, and share what they do for their businesses.
Our attending employers were:
Blanca Duarte, Medical Assistant Supervisor, Liberacion De Leon MD
Dr. David Guerrero, MD Medical Director, MD Compton Family Medical Center
Kristin Guerrero, Office Manager, Compton Family Medical Center
Nancy Sand, MD Medical Director, Sand Institute
Bill Dela Cruz, CMB Supervisor, ACEF Enterprises
Ernest Sari, CMB Director/Owner, ACEF Enterprises
Yesenia Ortiz, CMB Dental Biller, Bellflower Dental SPA
Michelle Dela Cruz, Pharmacy Billing Manager, Santa Maria Pharmacy
Stephanie Serra, Pharmacy Biller Supervisor, Santa Maria Pharmacy
Yowanda Salter, Billing Supervisor, Precision Billing Solutions
Dr. Max Martinez, Dentist/Owner, Dr. Max Martinez Dental
Alejandra Saucedo, Dental Assistant Supervisor, Bellflower Dental SPA
Dr. Maria Lovell Sanchez, Dentist/Owner, Bellflower Dental SPA
Yesenia Otiz, Dental Office Manager, Bellflower Dental SPA
Ramona Poblete, RN LVN/DSD, North Walk Villa Convalescent
Laura Oviedo, LVN Supervisor, North Walk Villa Convalescent
April Nelson, Staff Developer, Angel Connection
Ruth Catigan, LVN Supervisor, North Walk Villa Convalescent
Emerita Goordich, RNP RN Supervisor, Loma Linda Hospital
Florian Cases, LVN Supervisor, Florian Cases VN/CNA registry
Grezyl Cases, LVN Staff Developer, Florian Cases VN/CNA registry
Michelle Dela Cruz, Pharmacy Manager, Santa Maria Pharmacy
Dr. Ellis Suh, CEO/Owner, Sureland Chiropractic
Steven Castro, Staff Supervisor, Alameda Industrial Clinic
Oscar Leus, PTA Physical Therapy Supervisor, Dr. Oscar Leus PT
Walter Cordero, Owner/Ultrasound Supervisor, Trinity Diagnostics
John Siregar, Owner/Ultrasound Supervisor, Trinity Diagnostics
Alvaro Cerda, Owner/Ultrasound Supervisor, Broadway Radiology
After the full introduction, a campus tour of our labs were held for our employers to explore. They first entered our ultrasound lab where Ms. Pamela showed our high-tech ultrasound simulation ScanTrainer, an educational tool that uses real patient scans and curriculum-based teaching to support the students, as well as showed the traditional ultrasound machines. She then explained what they do and mentioned all the different pathologies students work with within our ultrasound program.
After that, the employers proceeded to our medical assistant lab, where Ms. Diana demonstrated how to check vital signs from patients. She then allowed her students to work on each other so employers can witness what some of our students do in our medical assistant program. Following the tour just next door, our LVN instructor, Mr. Roy, was convincing our students and employers that our high-tech nurse training simulation manikins are valuable tools. The simulation manikins help our students by allowing them to practice during their training and clinical rotation. This allows our students to practice with high-fidelity realism, allowing our students to develop critical thinking, communication, and clinical skills without risk to real patients.
Following the campus tour, our students were granted certificates for all their efforts in volunteering for our COVID-19 Vaccination and Care Harbor. Volunteering for this opportunity gives our students the experience and leverage on what it is like to work in the field of healthcare, and this gives them a better chance of getting hired and proving to employers of their capability and their quality of work.
The first round of Certificates for Appreciation were given to volunteering students who gave their time and energy in the service of protecting public health through their covid-19 vaccination effort. The awardees went to:
Karen Flores
Joselyn Brambila
Vanessa Vasquez
Luz Valadez
Araceli Trumbo
Tannia Diaz
Jazmine Huesca
Moto Olga Leofoalii
Rachel Sanchez
Stephanie Flores
Samantha Flores
Denise Jimenez-Gonzalez
Johana Bartolo
Kindy Degracia
Dominique Matthews
Stefanie illiana Flores
Samantha Carinna Flores
We also honored and recognized our students who participated at the largest FREE health clinic in the world, Care Harbor in Los Angeles. The awardees went to:
Clorinda Feijoo
Tyniece Widby
Joselyn Brambila
Monserrat Cedillo
Vanessa Vasquez
Araceli Trumbo
Millisia Christophe
Karen Anaya
Jasmine Reyes
Justin Rios
Jazmine Huesca
After receiving their certificates of recognition, our Campus President, Amita, asked our students what their experience was like during their participation in our COVID-19 Vaccine Clinic Event and Care Harbor:
'At first, I was scared but I managed to help a lot of people. I went to the clinic for three days. The doctor left me in charge of the vaccine. She trusted me and said I can go with her when I am done with the program.' –Denise, Patient Care Technician Program
'It was exciting! It was my first time volunteering for anything like that. It was fun and I actually liked it! I like to communicate with people, and I like to interact.' –Clorinda, Patient Care Technician Program
By the end of the awards presentation, lunch was served for everyone. Our Healthcare Heroes Event was truly a success! Every employer, Healthcare Career College staff and students had the chance to bond and interact with one another, while learning about the employers' businesses and creating connections. With the rapidly evolving workforce, allied healthcare heroes are needed more than ever to support our healthcare organizations! To find out more and learn about Healthcare Career College, contact us today!
Is a Rewarding Career in Healthcare Right For You? Get More Info…
If you're interested in learning more about careers in Healthcare and exploring whether Healthcare Career College is right for you, fill out the form on this page to receive more information.
For immediate questions, call (562) 804-1239