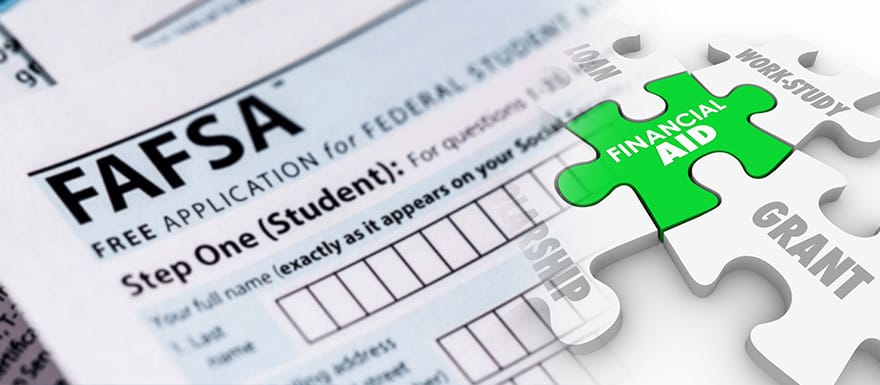 Applying for Financial Aid can seem like a confusing and frustrating process that may leave students feeling discouraged, but with a little guidance and education Financial Aid can be a wonderful resource for students who may qualify for help with paying for school. What is Financial Aid? Financial Aid includes various types of federal financial assistance that help students pay for school. There are grants which is free federal money that does not need to be paid back, scholarships, loans which do need to be paid back, work-study which allows students to work while in school through their financial aid, and several other types, but these are a few of the main ways to get help with financing your education. Students can apply for Financial Aid by completing a FASFA or Free Application for Federal Student Aid.
Gather Required Documentation
Before meeting with a Financial Aid Representative, it would be a good idea to gather financial information and documentation that may be required to determine if you qualify for aid. Some basic information to bring with can include:
Valid Identification (State Identification, Driver's License, or Passport)
Social Security Number
Birth Certificate
Taxes from the previous year
IRS Wage Transcript (If you did not work the previous year)
Parent(s) information (If you are claimed as a dependent)
Children(s) information (If you have dependents)
Depending on your particular financial situation, you may or may not need additional information or documentation, but as a general rule the above documents are usually required to ensure your FASFA application is as accurate as possible.
Meet with a Financial Aid Representative or Attend a FASFA Workshop
The next step to applying for Financial Aid is to meet with your school's Financial Aid Department or attend a FASFA workshop which is generally free to the public. FASFA workshops are great resources created to help students understand what they may qualify for, the types of grants, scholarships, or loans available, and what you need to bring to complete your FASFA application. These types of events are especially useful if you have a special circumstance that may complicate the application process. Financial aid experts are there to help students understand how the FASFA process works and what to expect step by step. If you are unsure about how to apply for FASFA or have any additional questions or concerns, then contact your school's Financial Aid office for more information.
Complete a FASFA Application
After learning about FASFA qualifications, what documents are needed, and what resources are available to you depending on your unique circumstances, then you are ready to complete your FASFA application. The process is generally straightforward, but if you are having difficulty filling your FASFA application ask your Financial Aid office if they may help you complete your application on campus. This will help prevent you from making mistakes or submitting an incomplete application that may delay you from receiving the maximum amount of financial aid available to you. A Financial Aid representative will guide you through step by step and answer any questions you may have throughout the application process. Once you have completely filled out the FASFA application you can submit and you will receive a confirmation via email.
Review and Correct your FASFA Application
After students submit their FASFA applications, it may take a few days to receive a response. Once your application is processed, you may need to make a few corrections which is fairly common. If you are required to resubmit your application or if additional documentation is needed, do not panic. This is a fixable problem and is usually very simple to do. It is best you speak with your Financial Aid office to ask them to review your FASFA application. More commonly, your Financial Aid office will contact you once receiving an update on your application and will advise you on how to proceed. Once all the appropriate corrections have been made, you will resubmit your FASFA application for review and it will be processed over the next few days. After your application has been reviewed you will receive an award letter explaining how much aid you qualify for and how often funds will be distributed.
Renew Your FASFA Application
If you are going to school for a longer period of time, you may be required to submit a new FASFA application. This is used to determine your eligibility since financial situations can change overtime, for example; you were working full-time last year, but earlier this year you were laid off and you are now currently unemployed which would affect how much aid you qualify for. Usually, your most recent taxes for the year you are applying for determines what will be reported on your FASFA application. Renewing your FASFA application on time is important, because if you do not complete a FASFA application for the length of time you are still currently in school for, you may not have financial assistance going forward. Since a large percentage of students depend on Financial Aid, renewing your FASFA application when required would be beneficial to any student who may need assistance with funding their education.
Want to Apply for Financial Aid?
Making the choice to go back to school is one of the best decisions you can make for your future. It will open up so many more opportunities and help you achieve your career goals. Many times, students will be hesitant to choose to go back to school for financial reasons, but with so many financial resources it is important that students take advantage of the help that may be available to them. Applying for Financial Aid should not be a daunting task, but more like a learning experience that is there to help fund their educational needs. Financial hardship should not be the reason a student is unable to pursue their goals. If you are interested in starting a medical career, but may need help applying for Financial Aid then visit healthcarecareercollege.edu and speak with a Financial Aid representative to get started today!
Career Training Can Be Attainable For You – Discover Your Options Today
If you're interested in learning more about your financial assistance and exploring whether Healthcare Career College is right for you, on this page to receive more information.
For immediate questions, call (562) 804-1239