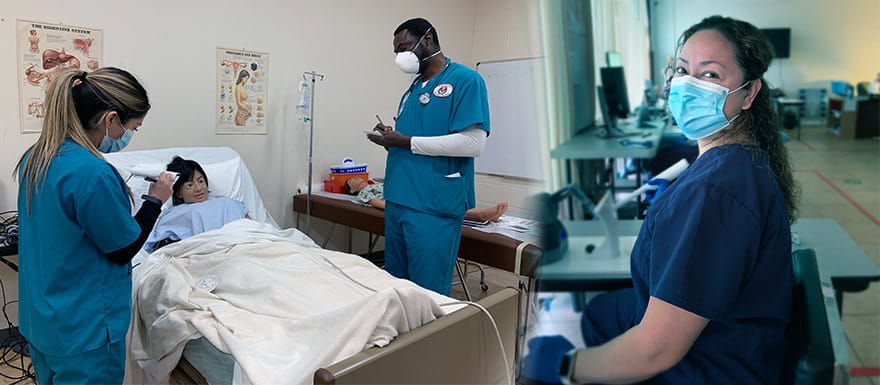 You've made the decision to further your education, great! You are now embarking on a rewarding and fulfilling experience, but maybe you are nervous or hesitant because we are in the midst of the COVID-19 pandemic. Not to worry, we did our research and came up with several ways you can succeed in school during the COVID-19 pandemic. We will cover topics on:
Preparing for school
Having a positive attitude
Staying consistent
Having an organized schedule
Staying focused
Are you thinking about going back to school? Has the COVID-19 pandemic held you back from returning to school? Are you struggling in school and would like to know how you can set yourself up for success? Then follow along as we go into further detail on how students can succeed in school during the COVID-19 pandemic.
Be Prepared!
Being prepared will set the tone for the remainder of the day. Waking up early, eating a healthy breakfast, completing homework assignments the night before, and arriving to school on-time all contribute to a student's long-term success. If you are someone who struggles with waking up early, you can set up everything you need for the next morning the night before. Practicing effective preparedness will save you time in the morning and make the process of going to school much easier. Completing homework the night before will allow you to focus on the present day rather than what you still need to do from the previous day. Allowing yourself an adequate amount of sleep will prevent tiredness and mid-day fatigue that may affect a student's ability to focus on complex tasks. Ultimately, being prepared is an important first step to a student's success. Practicing preparedness on a daily basis, will build good habits, build confidence, and prepare you for any and all unexpected challenges.
Have a Positive Attitude
According to popular opinion and proven research, a factor that can affect a student's ability to succeed is their overall attitude. Positivity is contagious to a person's environment, perception, and motivation to continue to persevere despite various bumps in the road. Having a negative attitude can create doubt, build unproductive habits, and potentially lead you in the opposite direction of your educational goals. Having a positive attitude will build productive habits, keep you focused on your educational goals, and reassure you when you are faced with challenges. How a student perceives school can also play a part in their overall success. Students with positive attitudes perceive school an opportunity to polish their knowledge while utilizing challenges as stepping stones to accomplishing their educational goals.
Stay Consistent
Completing homework, attending all class meetings, and being prepared consistently will be your best tool to having a successful school experience. Although as mentioned previously, there are other elements that play a part in a student's success, consistency is key to accomplishing your goals. Without a consistent pattern of behavior, unproductive habits tend to form for example; if a student only completes homework two days out of the week, they can fall behind and find themselves struggling to keep up. Being consistent is essentially having a routine or schedule and following it religiously. Waking up at the same hour every day, always, getting an adequate amount of sleep every night, and attending all class meetings daily are examples of a consistent lifestyle.
Have an Organized Schedule
Having an organized schedule will save yourself valuable time throughout your day. A schedule is a list of things-to-do for that day. Students can prepare for the following day ahead of time and reschedule when unexpected events happen. Additionally, a schedule will allow you to complete additional tasks around important appointments, work, and class meetings. Organizing your time leaves no room for wasted energy and will contribute to a very productive day. Every day is another opportunity to accomplish another goal, whether that be completing all your assignments for that day or studying for an upcoming test. Utilize a schedule and organize it according to your lifestyle to better structure your week as well as follow a compiled list of things-to-do each day.
Stay Focused on Your Goals
Finally, stay focused on why you chose to further your education in the first place. When unexpected challenges arise, it can be easy to feel defeated and lose that initial spark that led students to pursue their academic goals initially. Remember challenges are only temporary, but your success is lifelong. Staying focused on what is important, such as your personal, educational, and professional goals, will keep you grounded when things may not go as planned. Creating a vision board is a great way to visualize your goals and manifest them similar to saying daily affirmations.
Would You Like to Go to School During the COVID-19 Pandemic?
If you are interested in furthering your education and would like more information on how to do so during the COVID-19 pandemic, then visit healthcarecareercollege.edu and speak with an admissions representative to get started today!
Is a Rewarding Healthcare Career Right for You? Get More Info…
If you're interested in learning more about careers in healthcare and exploring whether Healthcare Career College is right for you, fill out the form on this page to receive more information.
For immediate questions, call (562) 804-1239