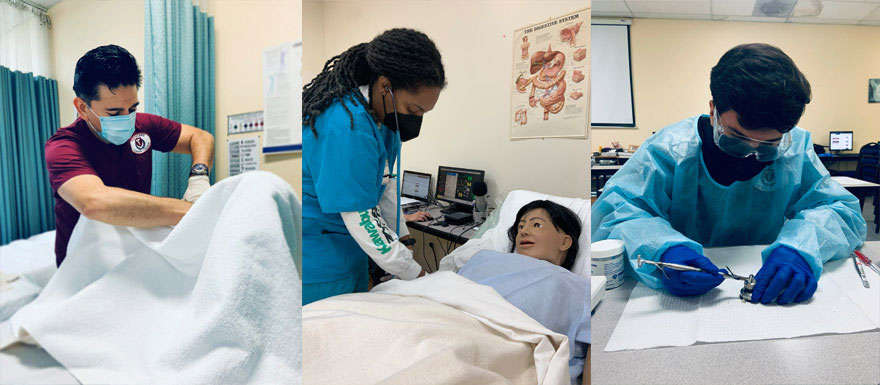 COVID-19 Compliant with the Centers for Disease Control
At Healthcare Career College, we understand how important education is to our students. Although our local state government officials have implemented a stay-at-home order into our communities due to COVID-19, we were able to create an environment that is compliant with the Centers for Disease Control so that our students can return to campus while continuing to socially distance. Now students have the capability to learn hands-on skills in a safe and comfortable manner.
We are excited that we have the ability to offer students the opportunity to continue to work towards their future career goals. Since the majority of healthcare careers require some form of hands-on skills training, we understand that we cannot replace hands-on experience. Instead, we've made changes that include: at least six or more feet between each student, face masks worn at all times, and constant disinfection of equipment and materials used frequently just to name a few. Currently we are following all protocols recommended by the Centers for Disease Control.
What Has Changed Since COVID-19?
We only allow a limited number of students at a time and require each student to fill out a COVID-19 questionnaire that ensures students who enter the building have been screened for any potential past exposure to COVID-19 or any symptoms they may be currently experiencing. Students must wash their hands upon entry or utilize hand sanitizer prior to practicing their hands-on skills training. Additionally, we obtain every students temperature making sure it does not exceed the highest allowable degree Fahrenheit.
After students are checked in, they are allowed to practice in small groups to maintain at least six feet in social distancing. All surfaces, equipment, and instruments are cleaned and disinfected between students. Additionally, we've integrated the latest in healthcare technology which allows students to practice hands-on skills on high technological manikins, ScanTrainers in ultrasound, and a dental lab which was created to resemble a real-life dental office. These technological advances in healthcare gives students the chance to practice their hands-on skills while socially distancing, because you are not practicing on other students, but gaining real-life experience they can take with them out in the field.
We have created COVID-19 protocols for each healthcare program ensuring the highest degree of safety for each student. We allow students to borrow equipment, so that they may practice at home with friends and family, as well as offer hybrid and completely online classes that fit your lifestyle. Finally, when students do practice on or with other fellow classmates, all COVID-19 screenings, protocols, and safety measures are put in place to ensure faculty and staff as well students are protected.
Why Should You Continue Your Education and Career Goals?
This pandemic has brought a stop to so many areas of our lives, however you do not have to stop your education and your career goals. There are so many challenges right now, but there are so many opportunities as well. Healthcare is an exciting and growing career field. Here at Healthcare Career College, we give you the tools and resources in order to succeed in spite of the ongoing changes this pandemic has brought. We are here for our students whether it's COVID-19 precautions, protocols, and compliance, or the option to attend school online or in one of our hybrid classes. If you are interested in pursuing a healthcare career then visit healthcarecareercollege.edu and speak with an admissions representative to get started today!
Is a Rewarding Healthcare Career Right for You? Get More Info…
If you're interested in learning more about careers in healthcare and exploring whether Healthcare Career College is right for you, fill out the form on this page to receive more information.
For immediate questions, call (562) 804-1239