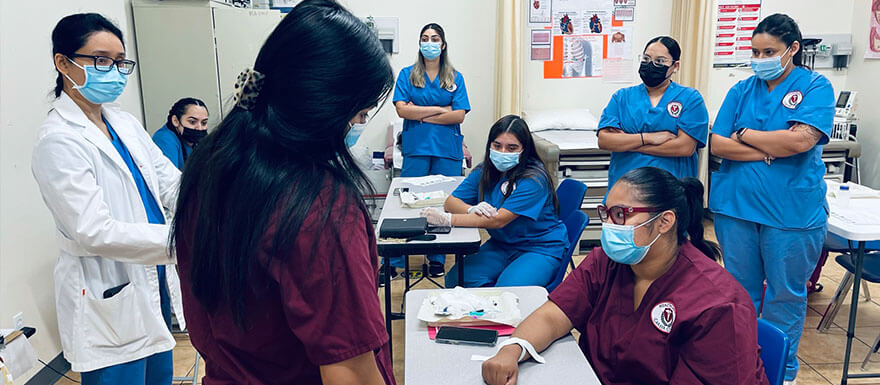 Advance Your Career in the Medical Assistant Field!
A rewarding career as a Medical Assistant can open the door to a variety of exciting career opportunities in the medical field. Medical Assisting is a great way to get your foot in the door. If you are looking to start a career in healthcare, Medical Assisting provides a great foundation to do so.
Medical Assistants are needed in almost every type of medical facility. Anywhere you find a doctor, there will be Medical Assistants. The demand for Medical Assistants is on the rise. The work they provide is essential to the success of a medical practice. Medical Assisting offers career flexibility and growth. If you are looking for a medical career that allows you to work in various specialties, you have a passion for service, and would like to grow your career in healthcare, then Medical Assisting may be the perfect fit for you.
Here are some ways a Medical Assistant can advance their career.
Find Your Passion: There are different opportunities for Medical Assistants depending on their passion. If you enjoy working with kids, you may consider specializing in Pediatrics. If you like working in a practice that specializes in cancer patients, you may consider specializing in Oncology. You can even work in the Emergency Room. Some Medical Assistants may find their passion through experience in the field, while others may already know their passion.
Take Advantage of Opportunities to Grow: A Medical Assistant can take advantage of opportunities to grow. Medical Assistant is a great foundation to branch out or add new skills. Medical Assistants can grow by learning new skills, getting promoted, or applying to work in hospitals and larger medical groups. Taking initiative to grow your career shows drive and will open the door to additional growth opportunities.
Find Somewhere You Would Love to Grow: Gaining experience is important, but recognizing potential growth within a company is also important. Investing time and dedication in a company that has growth potential will lead you in the right direction. Once you have accomplished success in your place of employment, you can seek promotions at your employer or find new opportunities elsewhere.
Medical Assisting is an amazing career choice, because virtually anyone can become a Medical Assistant. Healthcare Career College offers a 11-month Medical Assistant Program that includes a 1-month externship. Many externs successfully find employment at their extern site, and grow from there. This gives a person the skills they need to work as Medical Assistant.
Additionally, if a student would like to increase their earning potential, they can take a test through either the National Healthcare Association (NHA) or the National Commission for Competency Testing (NCCT) to become a Certified Medical Assistant (CMA) which is nationally recognized. With national certification, Medical Assistants can work in any state. This is one way a Medical Assistant can advance their career right out of school.
Here are possible career pathways a Medical Assistant can pursue:
Home Health Aide – Start Your Own Healthcare Business
Home Health involves caring for people who do not require hospitalization, but do need additional help to live safely at home. Starting your own healthcare business is a great option for someone who would like to be their own boss in the healthcare field. This may require additional resources to achieve, but having a Medical Assisting background will be a strong foundation for starting a healthcare business. Consulting with someone who has a business background, drafting a business plan, and securing funding will be steps you will take in order to reach this goal. If you would like to grow your career into a business, this is a great option.
Specialized Medical Assistant
A Medical Assistant can work in a wide range of specialties. The type of specialty a Medical Assistant works in will depend on their passion in healthcare. If you love working with kids, then specializing in Pediatrics may be right for you. If you love working with cancer patients, working in an Oncology office may be the perfect fit for you. There are even opportunities to work in the cosmetic industry as a Medical Assistant, so there are not many limitations to what you can do. First, get your experience so that you know what your options are. When you find your passion, focus on growing your Medical Assisting career in that. Becoming a specialized Medical Assistant focuses the work you do on a special population of people rather than the general public. If you would like to work with a specific category of people, then specializing your career may be the pathway for you.
Medical Office Manager
After investing some time with an employer, you may want to work in management. The next step for a Medical Assistant who would like to work on the administrative side of healthcare would be a position as a Medical Office Manager. Office managers are in charge of staffing, budgeting, and daily office operations. If you would like to work on the business side of healthcare, then a career in healthcare management may be right for you. Their role is essential to ensuring a medical facility is running smoothly and efficiently. While some employers require an Associate Degree for entry level office management positions, many Medical Assistants can work their way up to a management position just by their experience as a Medical Assistant.
Phlebotomist
There are some Medical Assistant Programs that offer Phlebotomy as an added bonus. Becoming a phlebotomist gives a Medical Assistant the skills needed to take venipunctures or to take blood from a vein or capillary for testing. A phlebotomist has a higher earning potential and they are needed in hospitals and clinics. If you are Medical Assistant and would like to earn more, pursuing added certification in Phlebotomy may be a great choice. At Healthcare Career College, learning phlebotomy is included and free of charge in the 11-month Medical Assistant Program.
Morgue Attendant
Morgue attendants receive and release bodies to and from the morgue. They assist the pathologist with autopsies and confirm the identities of the deceased. If you are interested in mortuary science or would like to work in a funeral home, hospital, or morgue, then becoming a morgue attendant is a great start. If you have some medical background or you are a Medical Assistant, you can enter this entry level career. Also, morgue attendants can focus their work in forensic science when a death is related to a crime. They are responsible for carefully collecting, labeling, documenting, and disposing material obtained during an autopsy. Since you will be working closely with a pathologist, having an extensive knowledge of medical terminology, anatomy, and physiology is very beneficial. Additionally, having a Medical Assistant background helps you stand out among the competition when applying for a position as a morgue attendant.
Medical Assistant Instructor
After gaining experience in the Medical Assisting field, you may find that your passion is to teach. This is a great opportunity for someone who loves Medical Assisting and would like to train others to become Medical Assistants. A misconception about becoming a healthcare instructor is that it requires years of education and a degree, but you only need two to three years of experience as a Medical Assistant to become a Medical Assistant Instructor. If teaching is your calling than becoming an educator may be perfect for you. Working as a teacher's aide is a great way to start. You will learn how to communicate with diverse groups of students and learn effective teaching techniques. Not only is this another amazing career pathway, but you are able to help your community by helping them start a new and rewarding career in healthcare.
Licensed Vocational Nurse or Registered Nurse
If you would like to learn additional clinical skills in medicine and work closely with patients then becoming a nurse could be a step in the right direction. Medical Assisting is a great transitional career because it covers the basics medicine in your training and experience. Additionally, if you have a medical background, you will have an advantage when training to become a nurse. As rigorous as nursing school can be, having previous experience in healthcare is always encouraged. This way you can focus on practicing complex clinical skills. Licensed Vocational Nurses and Registered Nurses are in demand. They can work in almost every type of medical facility. If you love working with patients and would like to expand your clinical skills, then a career as a nurse might be the way to go.
Summary
In conclusion, a career as a Medical Assistant is not limited to one particular work environment or career pathway. Medical Assistants enjoy a rewarding career with multiple career advancement options. Medical Assistants can become business owners, educators, nurses, and managers. They can specialize their work to a specific group of people, become certified Medical Assistants, or work in phlebotomy. Being passionate about what you do will help you choose which career pathway is best for you. Be open to all opportunities and take advantage of them. Finally, find an employer or company that you can see yourself long-term. No matter which career pathway you choose, there is always opportunity to grow as a Medical Assistant.
Is a Rewarding Career as a Medical Assistant Right for You? Get More Info…
If you're interested in learning more about careers as a Medical Assistant and exploring whether Healthcare Career College is right for you, fill out the form on this page to receive more information.
For immediate questions, call (562) 804-1239
Sources: