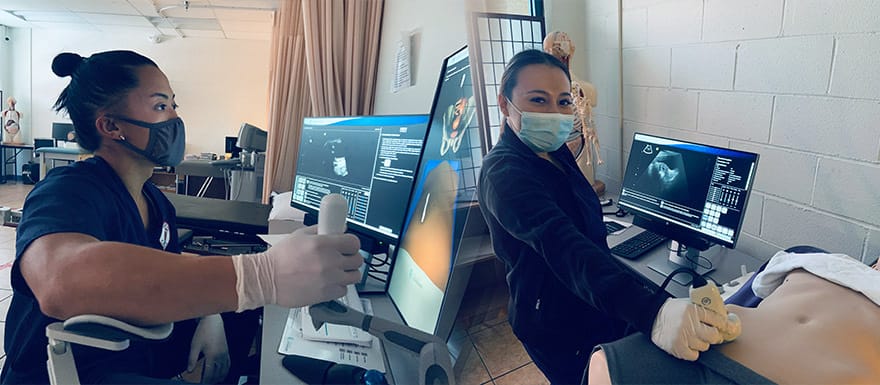 Ultrasound Technician students here at Healthcare Career College have had the chance to experience the newest technological advances in healthcare education. We've had the opportunity to expand our ultrasound lab to include ultrasound simulation that offers students the ability to scan a variety of pathologies that students would only see when out in the field. Healthcare Career College is one of the only schools in the surrounding area that offers this. Not only does our ultrasound simulation lab abide by social distancing guidelines, but gives students the edge when applying for a career as an Ultrasound Technician. If you'd like to know more about our new ultrasound simulation lab, then continue reading.
Advantages of Using Ultrasound Simulation
What are the advantages of practicing in an ultrasound simulation lab? Well, following Covid-19 and the challenge of social distancing, ultrasound simulation is not only a great alternative, but offered students the ability to learn how to recognize pathology by practicing on our state-of-the-art ScanTrainers. Many times, students won't see pathology until they are out in the field. With our new ultrasound simulation lab, students are scanning abnormal ultrasound cases that may include; tumors, cysts, and carcinomas just to name a few.
Experiencing the newest technology in ultrasound gives students the edge when looking for employment after graduation. Students have the knowledge without having years of experience. Our ultrasound ScanTrainers not only offer real-time scanning, but gives students; feedback, measurements, and the ability to capture live images. Our scan-trainers offer over 3,000 case studies where students can perfect their scanning skills. Ms. Pamela Cramer, our Diagnostic Medical Sonography Program Lab Instructor explains how important it is to experience pathology in lab rather than at externship.
Although students benefit greatly from using ultrasound simulation, we understand that it cannot replace real patient scanning. That is why we've integrated ultrasound simulation into our Diagnostic Medical Sonography Program as an added benefit along with live patient scanning and an externship program. This way students are confident in their scanning skills, soft skills, and familiarity with pathology after graduation. Healthcare Career College's students get to experience this unique curriculum which prepares them for a career as an Ultrasound Technician.
Become an Ultrasound Technician!
Technological advances in education has given students the chance to experience learning like never before. Ultrasound Technicians are an integral part of the diagnosis process. They have a comprehensive knowledge of anatomy and physiology, scanning techniques, and pathology. With our new ultrasound simulation lab that uses state-of-the-art ScanTrainers, students can scan in real-time while recognizing thousands of pathologies. If you would like to have the opportunity to use the newest in technology while preparing for a rewarding career as an Ultrasound Technician then visit healthcarecareercollege.edu and speak with an admission representative to get started today!
Is a Rewarding Career in Diagnostic Medical Sonography Right for You? Get More Info…
If you're interested in learning more about careers in Diagnostic Medical Sonography and exploring whether Healthcare Career College is right for you, fill out the form on this page to receive more information.
For immediate questions, call (562) 804-1239