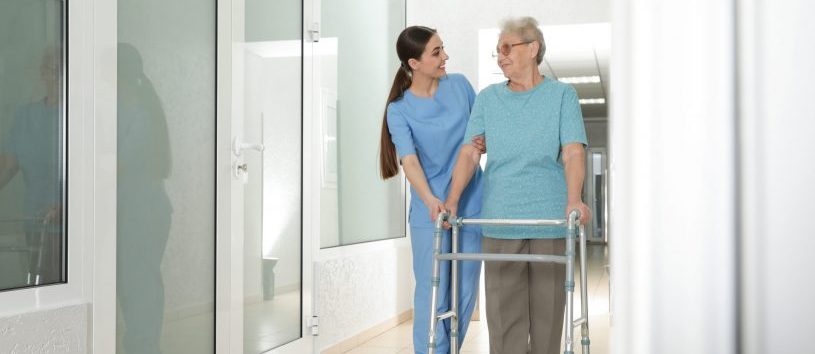 If you're interested in a career that involves patient care, you should consider becoming a Physical Therapy Aide or Assistant. There are many similarities between the two roles, but also a few differences. Knowing how these roles differ can help you make an informed decision on which career is right for you.
Physical Therapy Aide
Physical Therapy Aides work in hospitals or physical therapy clinics as part of the team that helps Physical Therapists (PTs) offer high-quality care to their patients. They handle clerical duties, including scheduling, cleaning and setting up equipment, and helping patients get to and from their therapy areas.
Their work ensures that the physical therapy environment is clean and ready for incoming patients and that PTs have everything they need to carry out a patient's care plan.
Physical Therapy Aides complete a shorter program to enter the workforce quickly. If you're looking to become a Physical Therapy Aide, Healthcare Career College's Physical Therapy Aide program in Paramount, CA can be completed in as little as 11 months*.
During Physical Therapy Aide training, students learn:
Front and Back Office Clerical Duties
Swedish Massage Training
Deep Tissue Massage Therapy Training
Massage Techniques for Sports Massage Applications
Physical Therapy Assistant
Physical Therapy Assistants help PTs provide therapeutic care to patients who have suffered injuries, are recovering from surgery or whose mobility has been affected by disease or chronic health conditions.
Most Physical Therapy Assistants work in hospitals or clinics that specialize in physical therapy. Some also work in assisted living facilities or visit patients in their homes as part of a home healthcare service. Regardless of their exact work setting, Physical Therapy Assistants enjoy an active career that keeps them on their feet for much of the day.
Physical Therapy Assistants require more education than Physical Therapy Aides. They must have an Associate's degree from an accredited institution, which will take approximately 2 years to complete. Once you've completed your program, you must then become licensed. All states require licensure, which involves passing the National Physical Therapy Exam for Physical Therapy Assistants.
Which Career is Right for You?
There are quite a few differences between a career as a Physical Therapy Aide versus a Physical Therapy Assistant. As you consider your options, think about the following:
If you would like to enter the physical therapy field sooner rather than later, Physical Therapy Aide school could be the right choice for you. If you don't mind extra time spent in school earning an Associate's degree, consider becoming a Physical Therapy Assistant.
If you're an organized individual who doesn't mind clerical tasks, a Physical Therapy Aide program may be right for you. If you're more interested in direct patient care, the role of a Physical Therapy Assistant may be a better fit.
If you're still unsure, consider getting started in the field by becoming a Physical Therapy Aide while working towards a career as a Physical Therapy Assistant.
Is a Rewarding Career as a Physical Therapy Aide Right for You? Get More Info…
If you're interested in learning more about careers as a Physical Therapy Aide and exploring whether Healthcare Career College is right for you, fill out the form on this page to receive more information.
For immediate questions, call (562) 804-1239
*Program length when completed in normal time.