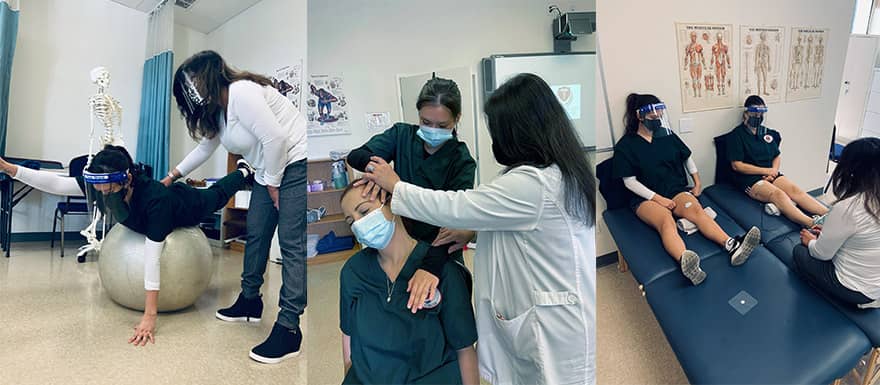 Ever wonder what Physical Therapy Aides learn? Would you like to step into the shoes of a Physical Therapy Aide student for a day? This article explains what courses you can expect to learn in a Physical Therapy Aide program. Whether your goal is to become a Physical Therapist Assistant or Physical Therapist, there are some basic academic requirements each student will need to learn to work in a physical therapy environment.
Every Physical Therapy Aide program will vary according to how the curriculum is structured at that particular school. Check with your local college to find out what classes are included in their Physical Therapy Aide program. If you would like to know more about what courses you will learn in a Physical Therapy Aide program then continue reading.
Anatomy and Physiology
Anatomy and Physiology is essential and every medical student will learn and should study on a daily basis. This course prepares you for your medical career by explaining every part of the body from the smallest cell to the largest system that makes up the human body. The anatomy portion of this course explains each part of the body from start to finish. The Physiology aspect of this course explains each organ system and their functions. Anatomy and Physiology is important in regards to physical therapy because you will be able to identify locations of bones, ligaments, tendons, and muscles where the Physical Therapist may focus on to rehabilitate a patient.
If you don't have a strong understanding of Anatomy and Physiology, which includes medical terminology, then you may find yourself lost in the healthcare field in general since most physicians use medical terminology when explaining treatments, documentation, and follow-up notes. Additionally, if would like to advance your career, Anatomy and Physiology will play an even greater role in a higher medical position.
Front and Back-Office Clerical Duties
Front and back-office duties can vary from office to office. Generally, front and back-office duties may include: appointment scheduling, filing, documentation, answering phone calls, cleaning and sterilizing treatment rooms, setting-up equipment, and patient transportation if needed. Competing a Physical Therapy Aide program will cover each of these job duties and go into depth about how to properly and safely complete each task. Being cross-trained in both front and back-office operations will give you flexibility when it comes to job opportunities and career adaptability.
Different Massage Techniques
Massage has been said to help with circulation, healing, chronic pain, and relaxation. This practice is used frequently in the physical therapy field for good reason. Each technique differs in pressure applied, direction of movement, and intended goal depending on the type of injury or pain being experienced.
Not every one of the following techniques will be included in a Physical Therapy Aide program, but these are some common massage techniques used in a physical therapy clinic. Students will learn different massage techniques that may include, but not limited to:
Swedish Massage
Deep Tissue Massage
Cross-Fibre Massage
Compression Massage
Deep Transverse Frictions
Trigger Point Therapy
Myofascial Release
Petrissage (Kneading)
Effleurage (Stroking)
Professional Hygiene and Ethics
Appearance in the workplace is important in any professional career. Professional hygiene is important in a medical career because you work closely with patients of various backgrounds and certain smells may offend or affect a patient overall experience even if they are receiving quality care. In a Physical Therapy Aide program, you will learn what is appropriate in a physical therapy clinic or other healthcare facilities that offer physical therapy.
According to dictionary.com, the official definition of ethics is "the branch of philosophy dealing with values relating to human conduct, with respect to the rightness or wrongness of certain actions and to the goodness and badness of the motives and ends of such actions." In simpler terms, ethics refers to the morals of an individual which dictates the actions of that person. In a medical environment integrity, respect, and compassion are key components to adhering to proper ethics in regards to how you treat patients, family members, and other healthcare professionals. Students will learn how to interact with others and carry out their job responsibilities in an ethical manner.
Interested in Becoming a Physical Therapy Aide?
Are you interested in becoming a Physical Therapy Aide? After reading this article do you feel physical therapy is the right career choice for you? Physical Therapy Aides are in demand and they are estimated to grow in the next few years. You will learn everything from Anatomy and Physiology to massage techniques and much more! This is an exciting career that offers career advancement and can be a great way to get your foot in the door and grow your career to eventually become a physical therapist if that is what you want. If you are ready to start a new career as a Physical Therapy Aide then visit healthcarecareercollege.edu and speak with an admissions representative to get started today!
Is a Rewarding Career as a Physical Therapy Aide Right for You? Get More Info…
If you're interested in learning more about careers as a Physical Therapy Aide and exploring whether Healthcare Career College is right for you, fill out the form on this page to receive more information.
For immediate questions, call (562) 804-1239
References