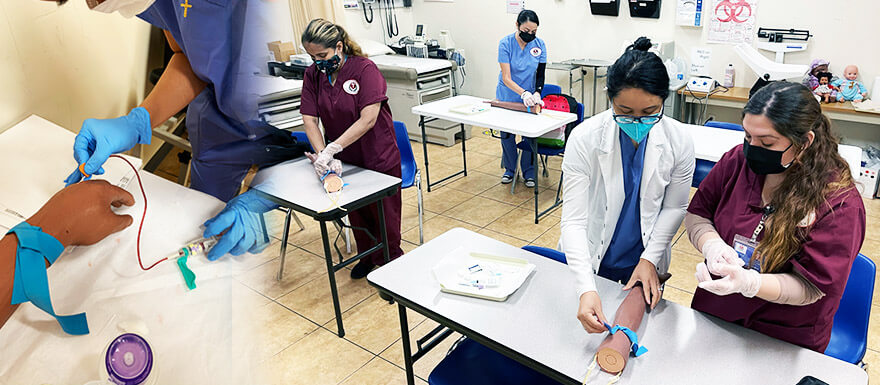 Ever wonder a Phlebotomy Technician does? Thinking about becoming a Phlebotomy Technician? If you are looking to start a career in healthcare in a short amount of time, a career in Phlebotomy may be the right choice for you.
Phlebotomy Technicians oversee the preparation, collection, and organization of blood samples for various purposes. Phlebotomists are trained to perform venipunctures, finger pricks, and heel pricks safely and effectively. A career in Phlebotomy can be a fantastic opportunity for current or aspiring Medical Assistants or people with previous medical backgrounds.
Phlebotomy is an important aspect of healthcare because it is used in diagnostics, blood donation facilities, dialysis centers, and in emergency transfusion situations. If you want to perform meaningful work, work in a variety of healthcare facilities, or would like to advance your current medical career, then Phlebotomy may be the perfect fit for you.
What Can I Do as a Phlebotomy Technician?
A Phlebotomy Technician is a healthcare worker that has been trained to take venipunctures, aka drawing blood from a vein or capillary. They must complete a certain number of hours of education and training to be considered eligible to work as a Phlebotomy Technician. Additionally, after completing an accredited Phlebotomy Program you will need to take a certification exam allowing a person to work as a Phlebotomy Technician.
Phlebotomy Technicians can perform a variety of tasks that may include:
Confirming patient identity
Preparing equipment
Comforting nervous patients
Disinfecting work areas
Labeling blood samples
Data entry
Performing venipunctures
Storing blood samples for testing
The level of care a Phlebotomy Technician is allowed to perform will depend on their certification(s) and their place of employment. Their work is minimally supervised and through their education they understand which supplies they will need according to the type of test ordered. Additionally, they will need to know communicate and reassure a patient throughout the venipuncture process.
Where Can I Work as a Phlebotomy Technician?
Phlebotomy Technicians can work in many types of healthcare facilities that offer phlebotomy services, such as:
Clinics
Doctors' offices
Outpatient laboratories
Blood donation centers
Community health centers
Nursing homes
Surgical centers
Insurance companies
Hospitals
What Skills Do I Learn as a Phlebotomy Technician?
Phlebotomy Technicians interact with the public, so not only do they learn clinical skills, but they also learn how to communicate to fellow medical staff members and how to handle anxious patients. Additionally, a Phlebotomy Technician will complete administrative tasks like labeling blood samples, entering patient information into a computer system, and matching requisition forms to specimen tubes. Since Phlebotomy Technicians deal with blood, it is especially important they understand infection control and why it is important.
Clinical skills a Phlebotomy Technician will learn in a Phlebotomy Technician Program will include:
Disposing of contaminated sharps
Drawing blood from veins by vacuum tube, syringe, or butterfly venipuncture methods
Dispose of blood or other biohazard fluids or tissue
Draw blood from capillaries by dermal puncture, such as; heel or finger stick
Organize or clean blood-drawing trays
Collect fluid or tissue samples
Phlebotomy Technicians use different tools for various purposes such as:
Syringes
Centrifuges
Blood analysis machines; cuvettes, scales, vials, blood pressure monitors, and disinfectants
Why Should I Become a Phlebotomy Technician
If you are someone with a background in the medical field and would like to advance your career, Phlebotomy is an amazing opportunity. You can complete a Phlebotomy Technician Program in less than a year and earn your credentials right out of school. If you are a Medical Assistant, you can increase your earning potential by adding this as an additional certification. Many employers appreciate the added training, because it allows you to perform a wider range of care.
This career allows someone to make a difference in their community while making a living. If you have a passion for healthcare, love working with patients, or would like to advance your career and take phlebotomy classes in los angeles then become a Phlebotomy Technician today!
Is a Rewarding Career as a Phlebotomy Technician Right for You? Get More Info…
If you're interested in learning more about careers as a Phlebotomy Technician and exploring whether Healthcare Career College is right for you, fill out the form on this page to receive more information.
For immediate questions, call (562) 804-1239
References