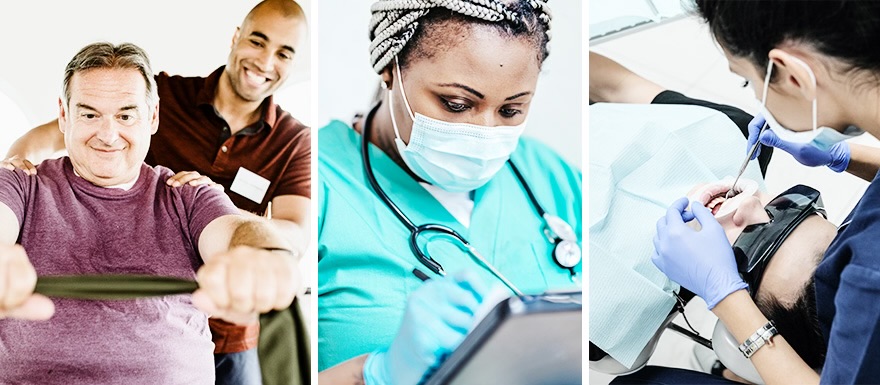 The largest and most recognized profession in the healthcare field in the United States is nursing. With almost 3.8 million employed licensed Registered Nurses (RNs) throughout the nation, about 84.5% are employed in nursing. RNs comprise one of the largest components and segments of the healthcare and U.S. workforce and are among the highest-paid occupations.
Nurses are the ones on the frontline caring for patients, monitoring patient conditions, supervising staff like LVNs and nursing assistants, taking part in critical decision-making, and are the primary providers of hospital patient care while delivering the nation's long-term care. Their profession has the most recognizable role within the field of healthcare. While nurses are highly acknowledged, there are other essential healthcare careers available for those who prefer administrative work or alternative hands-on activities. Understandably, nursing is not for everyone so there are numerous opportunities for everyone.
If you are searching for a career that is similar to nursing, there are a few rewarding in-demand healthcare career positions that go beyond the nursing aspect. If you are curious and wondering, here are three Healthcare Careers Similar to Nursing:
Dental Hygienist
Dental Hygienists are licensed, accredited, oral health professionals you commonly interact with at the dental office performing fundamental services to their patients. Dental Hygienists are an essential part of the healthcare force since they provide cleaning patients' teeth, apply sealants, take x-rays, and examine patients for oral diseases. They also educate their patients about oral care and hygiene techniques, such as how to floss and brush correctly.
Dental Hygienists are required to have an associate degree as an entry-level education. Depending on one's career goal, you may want to pursue a bachelor's degree or master's degree to advance your career as a dental hygienist. So how are nursing and dental hygienists similar? Both professions are gratifying, and they work directly with patients, providing preventative care, encouraging and educating them on overall well-being and how to take care of themselves. What separates these two practices are dental hygienists work with teeth and oral care, while nurses contribute to a wider scope of patient care.
Medical Assistant
Medical Assistants, also known as clinical assistants or healthcare assistants, are certified allied healthcare professionals focusing mainly on both clinical and administrative work in a medical setting. They are supporting professions of nurse practitioners, physicians, physician assistants, and other health professionals. The Medical Assistants' duties are basic patient care such as administering injections, measuring vital signs, drawing blood, bandaging and removing stitches, and preparing patients for examinations. Additionally, they tackle many administrative roles such as answering phone calls, scheduling appointments, handling billing, bookkeeping, and facilitating communication between patients and other healthcare professionals.
One of the fastest approaches into the healthcare field is becoming a medical assistant, making this career a contrast from nursing. Medical Assistants are required to have a diploma or a postsecondary certificate from a vocational school or associate degree from a community college to enter the field. Their profession differs highly from nursing by its scope of practice and experience. While they are similar in terms of basic patient care, nurses are more thorough with patient care while the medical assistant's main role is to support nurses and other healthcare administration. Medical assistants can work directly with patients but are limited from in-depth care and the responsibility of treating patients as nurses would.
Physical Therapy Aide
Physical Therapy Aides, or Physical Therapy Assistants, are licensed and accredited healthcare workers supporting and working under the supervision of a physical therapist. They provide in caring and helping patients who are recovering from injury to regain mobility or manage pain. This profession requires compassionate care for the well-being of patients who are recovering and trying to improve injury or disability. Their main responsibilities are to observe patients during and after therapy sessions, assign specific exercises while applying a variety of techniques, provide devices such as crutches, walkers, and other equipment to help support patients in attaining movement and reducing pain.
Like nurses, physical therapy aides can work in hospitals, nursing homes, outpatient clinics, private practices, sports and fitness facilities, and schools. For educational requirements, physical therapy aides need to acquire an associate degree from a community college or a licensed certification from a vocational program in order to pursue their practice in the field. Physical Therapy Aides are both essential and similar to nurses in terms of showing empathy and care, observing patient mood, speech, movements, and recovery. PTAs abide by a treatment plan with conviction that will serve the patient best. While diagnoses can receive a lot of consideration in the medical field, the long road to a patients' recovery is just as critical.
Is a Rewarding Career in Healthcare Right for You? Get More Info…
If you're interested in learning more about careers in Healthcare and exploring whether Healthcare Career College is right for you, fill out the form on this page to receive more information.
For immediate questions, call (562) 804-1239
SOURCES: