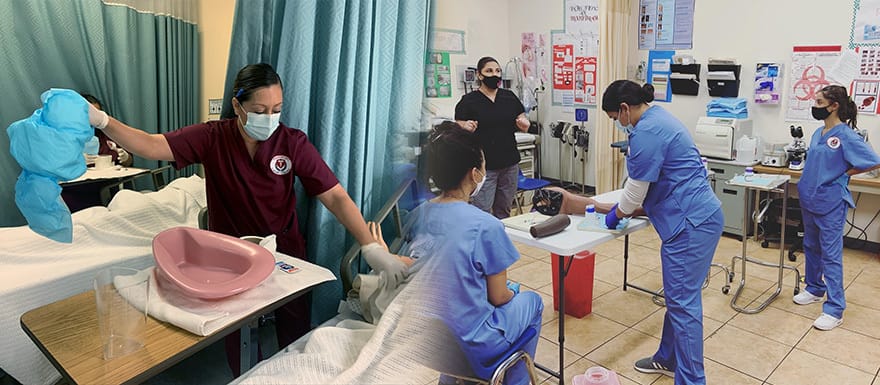 Choosing a school can take time and energy and may be confusing if you do not know certain advantages and drawbacks of a particular type of school. Whether you would like to attend the local community college or a career training program in your area, understanding the pros and cons will help in making your decision. It is important to choose a school that fits your lifestyle while building toward your career goals.
Factors such as; limited availability, financial hardship, and transportation difficulties will play a part in your decision to attend a healthcare career training program. After gathering a few pros and cons that come with attending a healthcare career training program, you will have the confidence to make the right decision based on your particular needs. If you would like to know the pros and cons of attending a healthcare career training program then continue reading.
Pros
Minimal Prerequisites Required to Enroll
When compared to traditional colleges which may require extensive prerequisite requirements, healthcare career training programs typically only require a high school diploma to enroll. For example, a medical assistant program at a traditional college may require anatomy and physiology, medical terminology, and basic math classes with a C or higher prior to being eligible to apply for their program. At a healthcare training school, you can enroll into a program with as little as a high school diploma and a basic entrance exam.
No Waiting Lists
Since seats are limited and demand is high at traditional colleges, there is typically a waiting list depending on the type of program. Private healthcare career training schools can have a waiting list if there are too many students wanting to enroll into the same program slot, but usually there are many program start dates not too far apart from each other that there is almost never a waiting list. Students have the option to wait until a later date to reserve their spot ahead of time.
Many Career Programs to Choose From
Healthcare training schools offer a variety of healthcare occupational programs. This is one of the many positive traits these type of schools have. You can choose between many different types of healthcare careers that fits your personality and lifestyle. Many times, students are unsure which healthcare career would be right for them. A quick trip to Admissions usually helps students make the best choice for their future. Traditional colleges offer career programs, but may be limited to a particular sector of healthcare, start dates available, and require prerequisites.
Supplies, Uniforms, and Testing Fees are Included in Your Tuition
In most cases the tuition students pay towards classes at a healthcare training school cover your uniform costs which may be scrubs, supplies, and testing fees. This accounts for the higher tuition students pay at these technical institutions compared to traditional community colleges. Traditional colleges generally do not cover uniforms, supplies, and testing fees, but your out-of-pocket costs at the time of enrollment are much lower. In many instances, students would rather save costs upfront and opt to pay for higher tuition costs over time than to worry about being able to afford school necessities throughout their career program.
Smaller Class Sizes
Traditional colleges have such a large number of students attending school that many time classes are overcrowded and may require students to be placed on a waiting list. Healthcare training programs have smaller class sizes because they have several start dates that allows students to wait for the next start date. This encourages smaller class sizes and a more intimate experience when students feel they are getting the appropriate attention they need to succeed in class.
Cons
Some Credits are not Transferrable
Conducting background research on a school and understanding how transferring credits work will help you determine if you will need to continue your search for a school that fits your needs. Technical, vocational, career training focused schools mainly educate and teach students the skills they need to work in a particular occupation. There are medical careers that a student may choose to pursue after completing their career training program, but is more likely to award you with an additional credential rather than a degree that will further your current career.
Tuition Can Vary
The type of school, the city and state it is located in, and the length of a particular program will play a part in determining your out-of-pocket costs or tuition. It is always a good idea to check with your school's financial aid office in regards to how much your program costs and the financial aid available to you. Additionally, it is important to know how much you will owe after you graduate. Your school's financial aid department will explain how much you will be required to pay back and your payment options down the road. Every school calculates their tuition differently depending on what is included and the fees associated with that particular program. Before enrolling into any healthcare training program, meet with the admissions or financial aid department to get an in depth understanding of what you are committing to.
Limited Schedule Options for Classes
Although there are many start dates students can choose from, there are limited schedule times for each program. For example, a Licensed Vocational Nursing program has two start dates every three months, but there is only one schedule which is Monday through Friday from 8 am to 1 pm. This leaves little to no room for people who have children or day jobs. While other traditional style schools may offer weekend classes or childcare assistance. When making the choice to go back to school it is important to consider if the schedule a school offers fits with your lifestyle, because if it doesn't you will need to make arrangements or look for another school.
May Not Offer Higher Degree Career Programs
Some healthcare training programs may only offer a diploma, certificate, or an Associate's Degree. If you are looking to pursue a Bachelors or Master's degree you may need to enroll into your local community college or university. Some healthcare career schools do offer higher degree programs, but only little to no schools in one state at any time due to the unique curriculum, high demand, and expensive costs. Many local healthcare career programs will offer programs that teach you skills and prepare you for your credentialling exam to work in that profession.
Thinking About Attending a Healthcare Training Program?
Are you thinking about attending a healthcare training program? If you are someone who wants to fast track your career into the medical field then a healthcare training program may be the perfect fit for you. You can enroll with little to no experience, no previous education, and start towards a rewarding healthcare career. You will become proficient in your hands-on skills, educated in the basics of healthcare, and become a contributing member of the healthcare community. If this sounds like you then visit healthcarecareercollege.edu and speak with an admissions representative to get started today!
Is a Rewarding Healthcare Career Right for You? Get More Info…
If you're interested in learning more about careers in healthcare and exploring whether Healthcare Career College is right for you, fill out the form on this page to receive more information.
For immediate questions, call (562) 804-1239