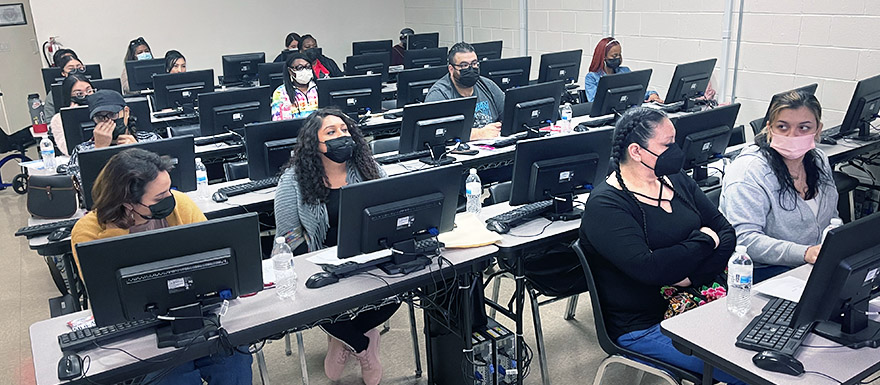 On Saturday, February 5, 2022, Healthcare Career College hosted its very first LVN OPEN HOUSE on campus. With an aging population, healthcare facilities will need nurses in the future as baby boomer nurses are leaving the profession in high numbers. The impact on improving people's lives every day is truly a rewarding experience so nursing is a good calling for those motivated in helping and caring for others in need.
Our day started by having our 17 prospective students register at the front desk with our receptionist, Sophia. After signing in, the students were given a packet with information on the event and were escorted by our work-study student, LePreal, to meet in the computer lab where the event was held.
Our Director of Admissions, Kelley, hosted the event with a brief welcome greeting and by covering the important details about the LVN program with a PowerPoint presentation. Our LVN OPEN HOUSE covered the following topics:
Admissions Requirements
Schedule
Tuition Cost
Career Services
Enrollment/Application process
The students were very attentive, excited, and inspired during the presentation. Kelley answered all the students respectively with any questions or concerns that they had about the LVN program.
Our Director of Financial Aid, Norma, covered the topics on applying and also becoming eligible for financial aid. She discussed filling out the FAFSA (Free Application for Federal Student Aid), the eligibility for PELL, and receiving the Federal Supplemental Educational Opportunity Grant (FSEOG) reserved for our larger programs like the LVN. The FSEOG Grant is a grant for undergraduate students with exceptional financial need.
At the end of the presentation, the students were given the opportunity to meet one-on-one with our Admissions Director Kelley and our Financial Aid Director, Norma, if they had any more questions, concerns, and if they are ready to enroll in our LVN program.
'I've always been interested in the medical field. My high school always had the bio-medical program, so I think that's what led me to continue my education after high school.' –Delilah, Prospective LVN student
'I'm interested in going to medical school because my wife is a nurse. I see all the hard work she does for others. When she comes back from work, she brings all that positive energy home. And that's what brought the thought in my mind of doing the same thing she does, in helping others.' –Christopher, Prospective LVN student
'I've been working in the healthcare field for over 20 years. I started of in '96 as a medical assistant. I've always had the love and passion to work with people. Just to be compassionate, friendly. Just to have the natural niche because I have two geriatric parents that I had to take care off so it just gave me the compassion to listen and to help one another. The best thing that I learned from all of it is having the sense of empathy for everyone.' – Tinesha, Prospective LVN student
The OPEN HOUSE had a successful turnout! With our 17 attendees, a handful of prospective students made an appointment to come back to complete their registration to pursue their passion for becoming an LVN.
Nursing is truly a rewarding career. At Healthcare Career College, we make sure our students graduate with confidence, knowledge and have the skill sets necessary to become successful LVN professionals.
Train to Become a Nurse
Our LVN class starts soon! If you are ready to start a rewarding career as an LVN today, or you would like more information about our LVN Program here at Healthcare Career College, then click here. We are here to help you reach your career goals!
Is a Rewarding Career as an LVN Right for You? Get More Info…
If you're interested in learning more about careers as a Licensed Vocational Nurse and exploring whether Healthcare Career College is right for you, fill out the form on this page to receive more information.
For immediate questions, call (562) 804-1239